The Anthony Davis sweepstakes are expected to be in full swing until the Pelicans trade the disgruntled big man. Hoops Rumors surveyed past and present NBA executives and scouts to compile a ranking of the players and picks available to the presumed Davis contenders.
We included the Lakers, Knicks, and Celtics, as each has been linked to the big man, as well as the Clippers, who could be the wild card team that acquires him. There may be a number of other suitors for Davis once trade talks begin in earnest, but for now these are the four teams that look best positioned – and most motivated – to make a play for the Pelicans' star.
Before we move onto our rankings, it's worth noting that we did not including LeBron James when speaking with sources, since it's extremely unlikely the Lakers would trade him. Players with the ability to hit the open market, such as Kyrie Irving and Al Horford, were also not included.
Let's dive in…
---
There's an important distinction to remember as we navigate through these players and picks: not everyone within the league is aligned on the value of each asset. The top tier, like many of these clusters, comes down to what exactly you value most.
What route the Pelicans will take if they meet Davis' trade request isn't known. New head of basketball operations David Griffin could opt for a full rebuild around Zion Williamson. Or he could look to build around Jrue Holiday and Williamson, aiming to contend for a playoff spot sooner rather than later. The Pelicans were not immediately available to comment on their plan or ranking.
Jayson Tatum is a sure thing. Plug him into the starting lineup in New Orleans and he immediately raises the club's floor. While he may not ever develop into a true MVP-caliber player and has just two years remaining on his rookie-scale contract, he's a tantalizing trade chip.
A prospect like R.J. Barrett, the favorite to be selected No. 3 overall, would be on a cost-controlled deal for four years and his cap projection would align with Zion's in New Orleans, providing an enormous amount of flexibility for a franchise.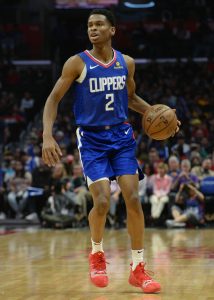 Shai Gilgeous-Alexander, who has three years remaining on his rookie deal, showed progress over the course of the season and the Clippers love him. While there's a chance he doesn't reach it, SGA may have a higher ceiling than Tatum.
One former executive said Gilgeous-Alexander should be No. 1 on this list, telling Hoops Rumors that the 6'5″ point guard would be under strong consideration for the No. 2 overall pick if he were in this year's draft. Other opinions ranged from definitive top-five selection to simply top 10.
Steve Ballmer's club has every asset needed to get a deal done with the Pelicans without including SGA. As for the Celtics, Tatum may not even be on the table in a Davis deal either. Boston could ostensibly acquire Davis without including Tatum, but it would likely require Griffin to have googly eyes for Jaylen Brown or the 2020 Memphis pick (more on that below).
We haven't heard officially whether the Knicks would pony up the No. 3 overall pick for Davis. There were conflicting reports before the lottery on whether they would have been willing to trade the rights to Williamson for AD if they had landed the No. 1 pick.
---
4. No. 4 Overall Pick (Lakers)
5. Memphis' 2020 Top-6 Protected First-Rounder (Celtics)
Opinions are split on the Memphis pick. Some believe the league has overvalued the Celtics' accumulated selections. For example, the Kings' selection was once perceived as gold. It ultimately ended up as this year's No. 14 overall pick (Boston's, via the Markelle Fultz deal with Philly, via Sacramento's salary dump of Nik Stauskas, Carl Landry, and Jason Thompson).
Memphis is expected to seriously consider trading Mike Conley and beginning a rebuild this summer; it could be a while before the Grizzlies sniff contention again. However, the selection is top-six protected for next year, meaning if the club as inexperienced as expected, the Grizzlies will retain the pick.
The asset is still extremely valuable, but regardless of what most predict will happen with the Grizzlies over the next few years, ranking this year's selection ahead of that pick comes down to a bird-in-hand philosophy, according to sources. The certainty of a top-five pick today trumps the possibilities of tomorrow, even if there's a perceived drop-off between the top three in the upcoming draft (Williamson, Ja Morant, and Barrett) and everyone else.
---
Distractions surrounding the Lakers and Lonzo Ball aside, the point guard remains highly valued around the league. One source indicated that he would only take Tatum or one of the top-five picks in this year's draft over the point guard.
---
7. Mavericks' 2021 Unprotected First-Rounder (Knicks)
The Mavericks' 2021 unprotected pick is a juicy asset. The franchise operates with a sense of confidence – or arrogance, depending on who you ask – betting on its infrastructure and its front office to attract talent and put out a contender. The Mavs have had some success with this approach (Harrison Barnes, Chandler Parsons, etc), but have also seen their share of strikeouts (such as the post-title Tyson Chandler decision).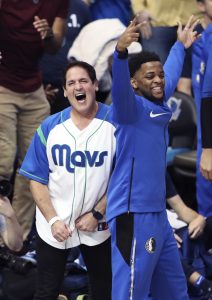 Luka Doncic and Kristaps Porzingis make Dallas' future bright and it's arguable that joining that duo on the upswing is a more desired situation than teaming up with an aging Dirk Nowitzki was. The situation brings hope for the future.
But it's not certain that the Mavericks will rise in the Western Conference. New Orleans landing Zion likely takes a long rebuild – one that would have the Pelicans still picking up the pieces from a Davis departure in 2021 – off the table.
The Warriors, Rockets, Jazz, Blazers, and Nuggets all have solid foundations that are unlikely to deteriorate by the 2020/21 season. The Clippers proved they can put out a playoff-caliber roster this season and they'll be in the hunt for major free agents this summer and next. The Thunder will be several seasons into the Paul George–Russell Westbrook pairing and the Lakers may have already found a co-star for LeBron by then. The Kings, Wolves, and Suns have young nuclei on similar trajectories to the Mavs, while the Spurs will have seen a few seasons from their rotation of young guards by 2021.
How many Western Conference teams are nearly certain to be worse than Dallas? The Grizzlies may be the only franchise with a definitely dimmer two-year outlook than Mark Cuban's squad and even they could strike gold if Morant (or any prospect they take over the next two drafts) has a Chris Paul– or Deron Williams-like effect.
With the likely Rookie of the Year winner on hand, the Mavericks' future is bright and the team could just as easily be a perennial playoff contender by 2021. However, that outcome is far from a certainty, which makes this pick's upside evident and the asset one of the most valuable in the Knicks' cupboard.
---
Kyle Kuzma may deserve a higher ranking. One former NBA scout tells Hoops Rumors that Kuzma is closer to Tatum than most people think. Kuzma and the No. 4 overall pick is likely a more attractive pair of assets than Tatum and the No. 14 overall pick, a former executive said.
It's not certain if Jaylen Brown can ever become a first or second option on a true title contender and his inability to efficiently create his own shot worries some organizations.
However, Brown is still a tantalizing talent. He remains valued despite a mildly disappointing third season and his next deal (which would begin in 2020/21) is not a worry to many within the league. He's a notch ahead of any one of the Knicks' current players, per several sources.
---
Some remain high on Kevin Knox, with one league official telling Hoops Rumors that the former No. 9 overall pick is "right there" with this year's Knicks selection (No. 3) as the team's top asset.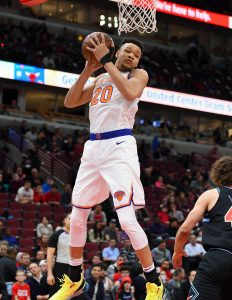 Some would rather Knox over Dallas' 2021 pick. Others were more bearish on Knox. There was a sense that he remains the team's most valuable player under contract, but there are surely teams around the league that don't believe he's likely to become All-Star worthy. If the Pelicans are in that group, then he's not adding a ton of value in a Davis proposal.
Marc Stein of the New York Times previously reported that Mitchell Robinson would be a top-10 pick if the league re-did the 2018 draft. The chatter we heard echoes that sentiment. One former scout tells Hoops Rumors that Robinson can be an elite defensive big, though he still has work to do in learning how to play at the NBA level.
Robinson's contract can be considered the definition of team-friendly. It's essentially the sort of standard rookie-scale deal a first-round pick would sign (with non-guaranteed money instead of a typical team option in year three). He'll take home roughly $1.62MM next season followed by $1.66M (non-guaranteed) and then about $1.8M in 2021/22 (team option).
If Robinson can come close to becoming "elite" in any category at that price, then we are talking about a 2013-17 Warriors with Stephen Curry-like salary cap advantage for the Knicks or whichever team acquires him in a trade.
---
12. Landry Shamet (Clippers)
13a. Miami's 2021 Unprotected First-Rounder (Clippers)
13b. No. 14 Overall Pick (Celtics)
Landry Shamet's inclusion this high may seem surprising, considering he was sandwiched between four outgoing draft picks in the Tobias Harris deal earlier this year. However, his second half of the season with the Clippers did not go unnoticed around the league.
The Miami pick, which has now been held by four teams, came to Los Angeles in the Harris deal, and it's a gem. Depending on what kind rebuild the Pelicans (or any other team that makes a deal with the Clippers) is looking at, the selection could be higher on this list.
Still, the certainty of production now on a cost-controlled deal (ie. Shamet, Robinson, or Knox) would trump this selection for most franchises. Additionally, many within the league remain confident in Pat Riley's approach with the Heat. At a minimum, there's a belief that the club won't bottom out and rebuild; at best, Miami will cash in at some point on its glamour location and land someone capable of lifting the team up the Eastern Conference ranks.
The No. 14 overall pick comes with the same cost-controlled benefit as a player like Shamet, but there's no guarantee it'll produce a prospect like him in a draft class that isn't particularly deep.
---
Prioritizing assets this far down the list comes down to objectives. If the Pelicans want to put out a competitive product right away, Danilo Gallinari can certainly help with that. If New Orleans wants to stay on a typical trajectory when building around a No. 1 overall pick, adding a productive veteran may not make sense.
Gallinari has one season at $22.6MM left on his deal. That figure won't scare most franchises away, especially if a team that was hoping to land a star strikes out. Pairing Gallinari with young players (such as Shamet) and picks (like that Miami 2021 selection) makes for a desirable package that checks many boxes.
---
*15. Lakers' 2023 First-Rounder (Lakers)
*16a. 2020 First-Round Picks (Knicks, Clippers, Lakers, Celtics)
*16b. 2021 First-Round Picks (Knicks, Clippers, Lakers, Celtics)
*16c. 2022 First-Round Picks (Knicks, Clippers, Lakers Celtics)

These selections each come with an asterisk attached. In a vacuum, each of these picks probably belongs higher on the list. In reality, whichever team ends up trading for Davis will see the value of its future first-rounders drop, which would be reflected from the Pelicans' side in negotiations and in other trade discussions if and when a team acquires the two-time Gold Medal Olympian.
The Lakers' 2023 draft pick is among the highest valued picks in distant future years due to the uncertainty surrounding LeBron — his contract ends after the 2021/22 season (though that season is a player option). James will be 37 years old at the end of the four-year deal and there's no guarantee he'll remain with Los Angeles. Even if he does, it's not certain what he'll be capable of by then.
For the Pelicans, the 2021 and 2022 selections may have slightly more value than a 2020 pick, since there's a chance that New Orleans trades Davis to a destination and he bolts next July. It can't be assumed that Davis will re-sign with whichever team acquires him (he's hinted that New York and Los Angeles are his preferences), but New Orleans will likely operate negotiations under the assumption that Davis will remain wherever the organization trades him to for the foreseeable future.
---
Would Dennis Smith Jr. fetch a first-round pick if the Knicks traded him? The answer is probably yes, though opinions ranged on the former No. 9 overall pick. Some believe he has room to grow, while others believe what you see is what you get: a score-first point guard.
---
18a. No. 20 Overall Pick (Celtics)
18b. No. 22 Overall Pick (Celtics)
It would be shocking if the Celtics keep all three of their first-round picks this year. It would be equally shocking if the Pelicans or any team with a star for sale find value in taking all three back. One source tells Hoops Rumors that he expects Boston to look to shop one of its first-rounders outside of a presumed offer for Davis.
---
19. Sixers' 2020 Lottery-Protected First-Round Pick (Clippers)
With the Sixers coming one buzzer-beater away from an Eastern Conference Finals appearance, it may seem as if this pick is destined to fall late in the 2020 draft and league executives would be unenthusiastic about the asset. That's not the case.
There are layers of risk in banking heavily on Philadelphia to be among the top contenders in the East next season. Jimmy Butler, Harris, and J.J. Redick will hit the open market. If they all come back, the Sixers have limited resources in filling out their bench. The long-term health of Joel Embiid remains a variable, according to several sources around the league. Plus, if teams like the Celtics and/or Knicks land stars, the conference could become more competitive, knocking the Sixers down a rung.
The Sixers are likely to be good again next season. They could even be the favorite in the conference depending on what happens with Kawhi Leonard, Irving, and Davis. However, in the equation of this pick's valuation, a bevy of variables exist and it can't be assumed that this selection will land in the mid- to late-20s.
---
Acquiring Brandon Ingram comes with massive risk. From a talent perspective, he remains highly coveted, with one former scout telling Hoops Rumors that Ingram would be above the Knicks' current group of players. However, he's extension-eligible this summer and given his health concerns (he underwent surgery to treat blood clots in March), the Pelicans or any team will have to be wary of trading for the former No. 2 overall pick. There's just one year left on his rookie deal.
---
Marcus Smart signed a four-year, $52MM extension with the Celtics last summer and that deal is viewed favorably around the league. Several sources tell Hoops Rumors that Boston could fetch an asset if they look to move Smart by himself. If he happens to be part of a Davis deal, his value is likely to be part of the calculus of the trade.
Montrezl Harrell is a steal at $6MM for next season, but he'll be a free agent next summer and figures to become pricier. Lou Williams had an incredible season at age 32, likely cementing a yet another Sixth Man of The Year award. He has two seasons left on his contract at $8MM annually — the 2020/21 figure is even non-guaranteed in case things go unexpectedly south next season.
It's unlikely that the Pelicans look to acquire him in a Davis deal, but make no mistake, Williams would garner an asset if the Clippers moved him this offseason to clear cap space or if he's sent to another team in a three-way AD trade.
---
22. Mavericks' 2023 Top-10 Protected First-Rounder (Knicks)
The Mavericks' 2023 first-rounder is intriguing, but it doesn't come with the upside potential of the 2021 selection. Best-case scenario, it's a late lottery pick in 2023. Worst-case scenario, it remains protected for three years and eventually becomes a single second-round pick in 2025.
---
Josh Hart may have the brightest future of this group of young prospects, but his payday is coming the soonest — he'll be extension-eligible in 2020 or RFA-eligible in 2021. Jerome Robinson and Moritz Wagner could still further develop and each has three years left on his rookie contract.
---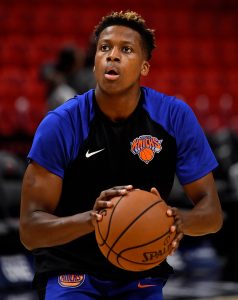 Frank Ntilikina was a player there was a major schism on. Some around the league believe he still has trade value and shouldn't be considered simply a "throw-in." He still hasn't turned 21 years old, and there have been many instances of young prospects floundering as top-10 selections in one spot, only to resurrect their careers with a new team.
Ntilikina's rookie-scale contract encapsulates the risk and reward associated with acquiring the former No. 8 overall pick.
He'll make slightly over $4.85MM during the 2019/20 campaign and whichever team acquires him will have until the end of October 2019 to make a decision on his team option worth $6.18MM for the following season—the final year of his rookie deal.
Teams will only have played a handful of games by that point next season, so a front office won't have much of an opportunity to evaluate the point guard before making a lucrative commitment for the following season. Conjointly, there's no long-term upside in the contract, as he's only under team control through the 2020/21 season.
---
Other Players, Picks By Team
Celtics
Clippers
Knicks
Lakers
Photos courtesy of USA Today Sports Images.