While the NBA won't announce this year's award winners until June, we're making our picks for 2019's major awards this week and next week.
The Hoops Rumors writing team has weighed in with our choices below, but we also want to know which players, coaches, and executives you think are most deserving of the hardware this season, so jump into the comment section below to share your thoughts.
We're keeping things going today with the award for Rookie of the Year. Here are our selections: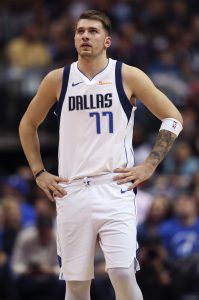 Arthur Hill: Luka Doncic (Mavericks)
Trae Young rallied to make the race interesting, but Doncic stands atop a very talented rookie class. He arrived from the EuroLeague with more experience and poise than most first-year players and quickly proved to be as good as his reputation. He was the top rookie scorer at 21.2 points per game to go with 7.8 rebounds and 6.0 assists, making him the first rookie to reach that combination since Oscar Robertson. Triple-doubles should become common for Doncic in the future as the Mavericks improve.
JD Shaw: Luka Doncic (Mavericks)
Just like the MVP award, this is widely viewed as a race between two select players: Doncic and Young. While Young made a strong late-season push, Doncic's impressive production lasted all year long for the Mavericks, with the 20-year-old proving he can play multiple positions and lead a young team for the future. His wizardry with the basketball, impressive court vision, willingness to rebound, and mature scoring abilities help him stand out at such a young age, giving him the edge to be my pick for this year's award.
Chris Crouse: Luka Doncic (Mavericks)
Doncic wasn't held back by the learning curve that typically accompanies rookies. Showcasing command of the Mavs offense early in the season, he built a Rookie of the Year award candidacy that would be hard for any player to overcome.
Young, Deandre Ayton, and Jaren Jackson Jr. are among those who deserve recognition for their respective rookie seasons and each should have a bright future in the league. However, Doncic's debut was more deserving of the award.
Dana Gauruder: Luka Doncic (Mavericks)
Young made a spirited run after the All-Star break, but Doncic's numbers also rose as the year went along. Even after posting 21.2 PPG, 7.8 RPG, and 6.0 APG in his first NBA season, he's still younger than many college juniors — the Mavericks' future is bright with Doncic and Kristaps Porzingis as their franchise cornerstones. Doncic also racked up eight triple-doubles, tying for fourth in the league, and he'll likely rank second to only Russell Westbrook in that category over the next few seasons.
Luke Adams: Luka Doncic (Mavericks)
Young's second-half stats (22.8 PPG and 8.9 APG in 40 games) made this race more interesting than it had any right to be, given that at least one sportsbook paid out Rookie of the Year bets on Doncic in mid-February. Still, the gap between the two rookies' early-season performances make this an easy choice.
Before they slumped during the holiday season and then traded away half their team early in 2019, the Mavericks got off to a 15-11 start – capped by a win in Atlanta – with Doncic looking like their MVP. Meanwhile, during the Hawks' first 26 games, Young was putting up a shooting line of .373/.243/.781 with a league-worst turnover rate. Young's second-half run wasn't enough to overcome that slow start.
While a number of players from the 2018/19 rookie class should go on to have long, productive NBA careers, Doncic has been the best of the bunch so far.
Who is your pick for Rookie of the Year? Share your choices and your thoughts in the comment section below!
Previously:
Still to come:
Defensive Player of the Year
Most Valuable Player
Photo courtesy of USA Today Sports Images.