Celtics center Al Horford won't pick up the 2019/20 player option on his contract, according to ESPN's Adrian Wojnarowski, who reports (via Twitter) that Horford is on track to reach unrestricted free agency.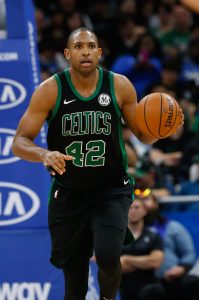 If Horford had exercised his option for next season, it would have locked in his $30,123,015 salary. Instead, he'll negotiate a new deal with Boston or a new team. Wojnarowski adds (via Twitter) that Horford and the Celtics have mutual interest in working out a new agreement in free agency.
While there has been an expectation all along that Horford and the Celtics will continue their relationship, either via his player option or a longer-term deal, the new level of uncertainty about the future in Boston has rival teams feeling more optimistic about making a run at the veteran big man, tweets ESPN's Zach Lowe.
The Celtics' original Plan A for this offseason was to lock up Kyrie Irving on a new contract and swing a deal for Anthony Davis. However, with Davis headed to Los Angeles and Irving's future in Boston looking more tenuous than ever – Kyrie seems to have "essentially ghosted" the team, per Adam Himmelsbach of The Boston Globe – the franchise's direction is no longer clear.
Retaining Horford will be crucial for the Celtics after another season in which he served as the roster's frontcourt anchor. He was limited to 68 games due to injury and his numbers (13.6 PPG, 6.7 RPG, 4.2 APG, and a .535 FG%) don't necessarily jump off the page, but the 33-year-old was a linchpin on defense and an important screen-setter and pick-and-pop weapon on offense.
If the Celtics and Horford can work out a longer-term agreement that starts closer to $20MM, it should allow the team to re-sign Terry Rozier and have access to the full mid-level exception this offseason, tweets ESPN's Bobby Marks. As Marks points out (via Twitter), the club could also clear up to about $27MM in cap room, but that would mean renouncing Horford and Rozier along with Irving and Marcus Morris, which probably isn't realistic.
Photo courtesy of USA Today Sports Images.