The Lakers and Celtics are each engaged with the Pelicans in trade talks involving Anthony Davis, league sources tell ESPN's Adrian Wojnarowski.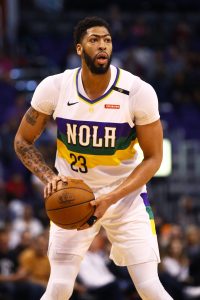 While the Lakers were unable to land Davis at the trade deadline in February, they continue to be viewed as a strong contender in the AD sweepstakes. Wojnarowski referred to them as the leader in the clubhouse during a SportsCenter appearance earlier this week, while Ian Begley of SNY.tv hears from a league source that the Lakers have made some progress toward a multi-team deal Davis deal.
According to Wojnarowski, the No. 4 overall pick in next week's draft – currently held by L.A. – has been discussed as a trade chip that could help New Orleans acquire a high-level player in a multi-team deal. Wojnarowski had reported earlier this week that new Pelicans head of basketball operations David Griffin was exploring scenarios involving multiple teams in an effort to get New Orleans the sort of assets the team is seeking.
Marc Stein of The New York Times reports (via Twitter) that the Lakers have made both Lonzo Ball and Brandon Ingram available in trade talks for Davis, in addition to the No. 4 overall pick, which may be re-routed to a third team if a deal comes to fruition. Stein adds (via Twitter) that the viability of the Lakers' offer may hinge on what kind of player that No. 4 pick could attract. If the Pelicans can get another player they really like on top of Ball or Ingram, it would help tip the scales.
It also appears possible that Kyle Kuzma may be a deal-breaker for the Pelicans. Los Angeles is trying to keep Kuzma out of any trade package, per Stein and Tania Ganguli and Broderick Turner of The Los Angeles Times (Twitter links). However, the Pelicans want Kuzma as part of the return for Davis if they make a deal with L.A., according to Ganguli and Turner, who say that the forward is the young Laker most coveted by the Pelicans.
In their full report, the Times' duo even suggests that the Lakers may have the opportunity to keep the No. 4 pick if they include Kuzma in their offer, though it sounds as if they'd probably have to add other extra assets in that scenario. The Lakers are trying to exercise some level of restraint in trade talks, given their leverage as Davis' preferred destination, per Wojnarowski.
As for the Celtics, they apparently haven't been deterred by the public comments made by agent Rich Paul, who has made it clear that Davis would prefer to end up with the Lakers or Knicks and would just be a rental if he goes to Boston.
"They can trade for him, but it'll be for one year," Paul said of the Celtics and his client. "I mean: If the Celtics traded for Anthony Davis, we would go there and we would abide by our contractual [obligations] and we would go into free agency in 2020. I've stated that to them. But in the event that he decides to walk away and you give away assets? Don't blame Rich Paul."
While the Celtics remain in the mix, Ganguli and Turner write that Boston and New York may not be willing to gut their respective rosters in a trade for Davis, since they're concerned about not having enough leftover talent to be legit contenders.
The Nets and Clippers are among Davis' other potential suitors, but they haven't been able to gather any traction in discussions with New Orleans, according to Wojnarowski.
No matter which team Davis plays for in 2019/20, he's expected to reach free agency next summer, but his camp has strongly suggested that the odds of the All-Star big man re-upping with the Lakers or Knicks are much higher than they'd be with any other team.
If the Celtics or Lakers reach an agreement with the Pelicans on a trade for Davis, it wouldn't be officially finalized until sometime after the new league year begins in July, notes ESPN's Bobby Marks (Twitter links). Boston isn't permitted to acquire AD at all while Kyrie Irving is still on his current contract, and the Lakers wouldn't be able to make salary-matching work at this point.
Photo courtesy of USA Today Sports Images.