The ripple effect of the 2016 and 2017 offseasons continues to impact the Heat, who invested substantially in Hassan Whiteside, Tyler Johnson, James Johnson, Dion Waiters, and Kelly Olynyk during those two summers. While some of those players continued to provide Miami with positive contributions in 2018/19, none were full-time starters and three ranked outside the team's top eight in minutes per game.
With their cap overrun by lucrative salaries for good – but not great – veterans, the Heat have had a tough time acquiring true impact players in recent years, and that lack of high-end talent has hurt them on the court. Despite having one of the NBA's deepest rosters – 12 players started at least 10 games for Miami in 2018/19 – the club has suffered from not having a star who can take over and close games.
The result? A 39-43 record and a spot in the lottery this season, as the Heat missed the playoffs for the third time in five years since LeBron James' departure.
Here are five key questions facing the franchise this summer:
1. How much longer will Pat Riley be patient with this roster?

It wasn't long ago that the Heat were perennial contenders for top free agents on the open market, but after missing out on Kevin Durant in 2016 and Gordon Hayward in 2017, team president Pat Riley decided to pull back.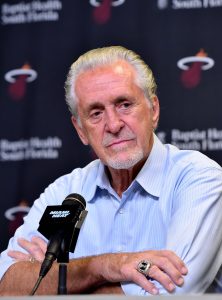 Riley's investments that summer in James Johnson, Waiters, and Olynyk – all of whom received four-year contracts worth north of $11MM per year – were a reflection of that adjusted philosophy. The Heat weren't giving up on the pursuit of star players entirely, but they didn't want to let their own contributors get away, and figured re-signing them could open up trade opportunities down the road.
The Heat have had the occasional opportunity to make a splash on the trade market since then – they were considered frontrunners for Jimmy Butler at one point last fall – but those big contracts that could have been used for salary matching haven't been as team-friendly as Miami had hoped. As a result, the Heat have been mostly locked into their current roster, with swaps of bad contracts (like Tyler Johnson's for Ryan Anderson's) representing the only real trades available to them.
After a mediocre showing in 2018/19, it's hard to imagine Riley signing up for more of the same in 2019/20, so it'll be interesting to see how aggressively the Heat try to get out from under some of their pricier deals this summer.
Whiteside, Anderson, and Goran Dragic are entering contract years (assuming Whiteside and Dragic exercise their player options, as expected), which might make them easier to move. But it's not clear how many of Miami's veterans have positive trade value, so the club will have to extensively evaluate the risk and reward of any deal.
2. Should the Heat be willing to cut into their projected 2020 cap room with a trade?

Riley spoke in February about 2020 being the Heat's "[cap] room year," suggesting that the team will once again be able to pursue top-end options on the free agent market next summer. That sounds good in theory, but there are two issues with the plan in practice.
For one, it's not clear how much room the Heat will actually have available. Once options are accounted for, Miami projects to have nearly $72MM on its books in 2020/21 for just six players. That's not bad, but it's certainly not enough for the two max slots that Riley predicted the Heat would have available. Even if the Heat don't add any multiyear money this offseason, they project to have just enough space for one max player.
The more pressing concern for the Heat is that it's unclear which players they're expecting to target in 2020. Currently, that year's free agent class doesn't exactly look like a star-studded group — Anthony Davis is an impressive headliner, but if he gets traded to a preferred landing spot this summer, he may not even reach the open market. Other top options include Draymond Green, Kyle Lowry, and maybe guys like DeMar DeRozan and Andre Drummond if they turn down lucrative player options.
Perhaps one of this year's elite free agents signs a one-year deal and returns to the market in 2020, or maybe a restricted free agent becomes available for the Heat. But it's risky to bank on either of those scenarios.
That's why I don't think the Heat should be averse to the idea of adding a long-term salary to their books in a trade this summer. If the club can't necessarily count on making a big splash in free agency in 2020, sacrificing some of that projected space to acquire an impact player right now makes sense to me.
Maybe the Heat won't be willing to take on a contract like Chris Paul's, but a deal like Mike Conley's would be more manageable, and would put the Heat on track to have their "room year" in 2021, when virtually all their most expensive contracts expire.
3. Which Heat players are the most logical trade candidates?

It seems inevitable that the Heat will make at least one trade this offseason, but identifying the player(s) most likely to be moved hinges on knowing what their priorities are. If they're committed to cutting payroll, Dragic, James Johnson, and Olynyk may be the best trade candidates on the roster — Dragic's contract is expiring, while Johnson and Olynyk should have decent enough trade value despite large cap hits.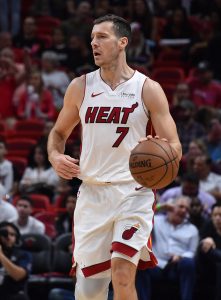 If the Heat remain committed to creating cap room for 2020, it might make more sense to hang onto Dragic and Whiteside unless they can be dealt for other expiring contracts. Instead of shopping those expiring deals, the Heat could focus on moving multiyear contracts like Johnson's and Waiters' in an effort to create more flexibility for the '20 offseason.
While including a younger player like Josh Richardson, Justise Winslow, or Bam Adebayo in a trade package would make it much easier for the Heat to dump salary and escape tax territory, I don't expect the club to go that route. Miami was reluctant to part with those players even when a star like Butler was available via trade — the team won't surrender them now just to improve its financial situation.
4. How will the Heat use the No. 13 overall pick?

The Heat are never shy about trading their first-round picks, and don't end up in the lottery too often, so the No. 13 selection in this year's draft represents a rare opportunity to add a young, controllable prospect to their core.
The 2019 draft class isn't considered particularly strong, so the Heat probably shouldn't bet on a player like Donovan Mitchell (2017's No. 13 pick) falling to them. But there will be talented players available at the back end of the lottery, even if the best-case scenario at that point may realistically be a solid starter or valuable role player rather than future All-Star.
With few definitive long-term building blocks in place, Miami shouldn't have to worry much about positional overlap, so the franchise is in good position to go after the best prospect available.
A handful of promising young forwards, including Rui Hachimura, PJ Washington, and Brandon Clarke are projected to come off the board in the back end of the lottery, and at least one should be on the board when Miami picks. If the team prefers a wing, Romeo Langford and Kevin Porter Jr. will be options. Tyler Herro may be a reach at No. 13, but his shooting stroke could intrigue a Heat team that ranked in the bottom third of the NBA in three-point percentage.
Attaching this pick to an unwanted contract or two in a trade to cut costs is an option for the Heat, but I'd be surprised if the team went that route rather than simply taking the opportunity to add an inexpensive prospect to its roster.
5. What will the Heat do with Ryan Anderson?

I glossed over Anderson in the section above on trade candidates, but he'd certainly fit the bill. The Heat would love to remove his $21.26MM salary (guaranteed for $15.64MM) from their books if they can.
Given how Anderson's value has plummeted over the last year or two though, I don't expect the Heat to get any offers they like for him. Assuming they're unwilling to attach an asset to grease the wheels on a potential deal, the Heat will have three options with Anderson — keep him, waive him, or waive him using the stretch provision.
Keeping him looks like the least likely scenario, since he'd receive an extra $5.6MM+ in guaranteed money if he remains on the roster beyond July 10. Waiving and stretching him has its appeal, since it would reduce the club's 2019/20 payroll by more than $10MM, which would be a big step toward getting out of the tax.
Waiving Anderson without stretching him is another realistic path for the Heat, especially if they can get him to accept a modest buyout. That would allow the team to confine Anderson's cap hit to one season, avoiding having it cut into their projected cap space for 2020 (or 2021). For that to be a viable solution though, Miami will likely have shed salary elsewhere — otherwise, Anderson's substantial dead money in '19/20 could contribute to a problematic tax bill.
---
Check out the Miami Heat's offseason salary cap outlook right here.

---
Salary information from Basketball Insiders was used in the creation of this post. Photos courtesy of USA Today Sports Images.