With the 2019 NBA draft just mere hours away, we're finally set to reveal Hoops Rumors' own mock draft. Arthur Hill and Chris Crouse of Hoops Rumors have tackled the 2019 first round, alternating picks and providing their thoughts and rationale for each selection.
Our mock draft isn't necessarily a reflection of what we think will happen on Thursday night, but rather what Arthur and Chris feel each team should do with the 30 first-round picks. Our draft also doesn't include trades, so a busy day on the trade market could significantly alter our projected order.
After checking out our picks, be sure to head to the comments section to weigh in with your own thoughts, opinions, and predictions.
Let's dive in…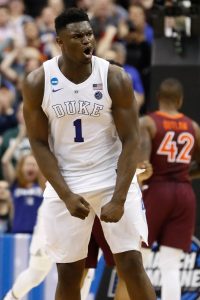 1. New Orleans Pelicans: Zion Williamson, F (Duke)
Arthur Hill: It didn't take long for the Duke freshman to prove he was the best player in college basketball. Unlike most No. 1 overall picks, Williamson comes into a solid situation with New Orleans' upgraded roster, so he won't need to be dominant right away. His talents will be fully unleashed in the NBA and he will be a strong favorite for Rookie of the Year.
2. Memphis Grizzlies: Ja Morant, G (Murray State)
Chris Crouse: Memphis traded away Mike Conley in order to make room for their new point guard of the future. Morant will likely be the selection here and he has big shoes to fill from day one.
3. New York Knicks: R.J. Barrett, F (Duke)
AH: It's been a disappointing offseason already for the Knicks, who lost out on Zion Williamson, Anthony Davis, a healthy Kevin Durant, and probably Kyrie Irving too. They need to resist any temptation to gamble with the No. 3 pick and simply make the safe choice in Barrett. He's a high-volume scorer who proved in college that he can be a play-maker as well. He will be a nice piece for what now looks like it could be a long rebuilding process.
4. New Orleans Pelicans: Darius Garland, G (Vanderbilt)
CC: Regardless of whether or not the Pelicans keep this selection, Garland should be the pick. He's the fourth-best player in this draft and would arguably be in contention for a top-three selection had he played the entire season. There's risk with this pick, but the upside is too great to allow him to fall in the draft.
5. Cleveland Cavaliers: Jarrett Culver, G (Texas Tech)
AH: At 6'7″ and a strong defender, Culver is an ideal complement to Collin Sexton in the Cavaliers' backcourt. Culver was a versatile player in college, running the Texas Tech offense as well as being the team's leading scorer. He also has a high basketball IQ and should be able to adjust to whatever role he asked to play.
6. Phoenix Suns, De'Andre Hunter, F (Virginia)
CC: The Suns may move on from Josh Jackson and T.J. Warren this offseason, which would leave their forward situation in flux. Hunter could come and add to a promising nucleus that includes Mikal Bridges, Devin Booker, and last year's No. 1 overall pick Deandre Ayton.
7. Chicago Bulls: Coby White, G (UNC)
AH: The draft breaks ideally for Chicago, which lands its point guard of the future without having to trade up. Despite being 6'5″, White has an explosive first step that enables him to beat defenders off the dribble. The Bulls get a potential star at point guard for the first time since Derrick Rose started breaking down.
8. Atlanta Hawks: Cam Reddish, F (Duke)
CC: Atlanta is likely Reddish's floor in this draft. While he struggled to live up to his potential at Duke, the talent is clearly there and the fluid wing would be a nice fit next to the Hawks' young backcourt of Trae Young and Kevin Huerter. It wouldn't shock me if Reddish ends up being a top-three player from this draft.
9. Washington Wizards: Nassir Little, F (UNC)
AH: This draft doesn't have the depth of past years, so teams will start gambling in the middle of the lottery. Little seems worth taking a chance on, offering elite athleticism with a 7'1″ wingspan. Washington is low on forwards and Little could become a good long-term answer.
10. Atlanta Hawks: Kevin Porter Jr., G (USC)
CC: Rumblings that Porter would be taken higher than expected have surfaced and with his skill set, it's easy to understand why. His offensive game is among the best in the class; his physical tools give him a chance to be a problem for opposing play-makers on a nightly basis in the NBA.
Can he put it all together? That's the risk with Porter. Injuries and a suspension limited his collegiate career to just 21 games and there are concerns about how he's going to play in the NBA when he doesn't have the ball. The Hawks are in a position to take the high-risk, high-reward prospect, adding his talent to an up-and-coming team.
11. Minnesota Timberwolves: Sekou Doumbouya, F (Guinea)
AH: Scouts rave about his physical abilities, especially on defense, but Doumbouya, who didn't start playing until age 12, will take some time to develop into an NBA player. The Timberwolves are in position to be patient, with a talented front line already in place and a more relaxed timetable to become contenders than they had a year ago.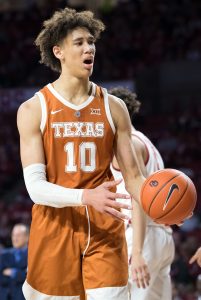 12. Charlotte Hornets: Jaxson Hayes, C (Texas)
CC: Charlotte needs to infuse young talent into all areas of the team and while Hayes is a project, he's the top center prospect in the draft. His length and agility give him the tools that evaluators look for in a five. The Hornets may be rebuilding next season if Kemba Walker leaves in free agency, so the team can afford to take a prospect who will need some time to expand his game.
13. Miami Heat: Tyler Herro, G (Kentucky)
AH: The Heat need shooters after trading Wayne Ellington during the season and making Dion Waiters available this summer. That's the specialty for this Kentucky freshman, who has been impressive enough during workouts to be considered as a lottery pick.
14. Boston Celtics: PJ Washington, F (Kentucky)
CC: The Celtics are likely to move at least one of their first-round picks, so another team could easily be picking in this spot. Should Boston stay put here, Washington gets the nod due to his long-term upside and projected ability to guard multiple positions in the NBA.
15. Detroit Pistons: Romeo Langford, G/F (Indiana)
AH: Langford was hampered during his freshman season at Indiana by a torn ligament in his shooting hand, but he was highly regarded coming out of high school and has the potential to expand his offensive game in the NBA. Scouts see him as an effective three-and-D player with the size and athleticism to develop into something more.
16. Orlando Magic: Rui Hachimura, F (Gonzaga)
CC: The Magic's biggest long-term need is in the backcourt and while Nickeil Alexander-Walker was a consideration here, Hachimura's game is too good for the team to pass up. Selecting the Gonzaga combo forward adds to an area of strength. And if the Magic decide to deal Aaron Gordon, the Hachimura/Jonathan Isaac duo is a great long-term pairing.
17. Atlanta Hawks: Goga Bitadze, C (Georgia)
AH: Atlanta probably won't keep all three first-rounders, but if it does, Bitadze would be a wise investment for a team that could use a center. Still only 19, Bitadze displayed a promising offensive game in the EuroLeague, including the ability to stretch the court.
18. Indiana Pacers: Brandon Clarke, F (Gonzaga)
CC: Clarke is one of the most polished prospect in the draft and he should be able to join the rotation in Indiana right away. I'd be surprised to see him fall this far, but if he does, the Pacers should rush to the podium.
19. San Antonio Spurs: Nickeil Alexander-Walker, SG (Virginia Tech)

AH: San Antonio adds to its collection of young backcourt talent with a sharpshooter from Virginia Tech. Alexander-Walker is versatile enough to handle either guard position, and his basketball IQ will help him fit in on a team coached by Gregg Popovich.
20. Boston Celtics: Bol Bol, C (Oregon)
CC: The 7'2″ center appeared to be a definitive lottery selection before breaking his foot in college. He could still go that high, but the risk will make teams think twice. The Celtics, one of several teams with multiple first-round picks, can afford to gamble that he'll return to form.
21. Oklahoma City Thunder: Keldon Johnson, F (Kentucky)
AH: Oklahoma City wouldn't mind trading the pick, but the freshman swingman out of Kentucky would be a good addition if they keep it. Johnson provides another three-point threat to a team that needs help in that area. He can also get to the rim and shows promise as an NBA defender.
22. Boston Celtics: KZ Okpala, F (Stanford)
CC: The Stanford product may not be able to contribute right away, as he'll need to put in work on both sides of the ball. However, the physical tools are there. With a nearly 7'2″ wingspan and an improved three-point shot, Okpala can one day become the ideal 3-and-D player who guards multiple positions.
23. Memphis Grizzlies: Ty Jerome, G (Virginia)
AH: With Ja Morant ready to take over at point guard, Jerome could be an effective backup. He's a tough competitor and displayed incredible efficiency while leading Virginia to a national title. He's also a knock-down shooter who would give the Grizzlies another 3-point weapon.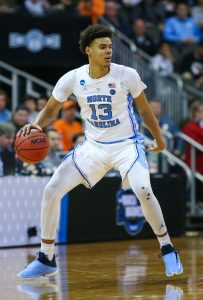 24. Philadelphia 76ers: Cameron Johnson, F (UNC)
CC: Philadelphia wants a contributor with the No. 24 overall pick and the franchise will be thrilled in the North Carolina product is still on the board when it picks. Johnson should be able to join the rotation on day one, given his smooth jump shot and understanding of the game.
25. Portland Trail Blazers: Mfiondu Kabengele, C (Florida State)
AH: Center is suddenly a position of need in Portland with Enes Kanter a free agent and Jusuf Nurkic expected to miss at least half the season with a broken leg. Kabengele has a 7'3″ wingspan and is a relentless rebounder and shot blocker.
26. Cleveland Cavaliers: Darius Bazley, F (Princeton HS (OH))
CC: If the Cavs keep this pick, I'd expect them to be in the mix for Bazley. There isn't much data available on him, as he sat out the season for a $1MM internship, but his fluidity at 6'9″ makes him a worthy of a shot here.
27. Brooklyn Nets: Nicolas Claxton, C (Georgia)
AH: Claxton still needs to develop physically to compete with NBA big men, but he showed an impressive array of skills in his sophomore season at Georgia. He can handle the ball on the perimeter, is versatile on defense, and has developed some low-post moves.
28. Golden State Warriors: Eric Paschall, F (Villanova)
CC: Golden State is going to come back next season with Stephen Curry, Draymond Green and plenty of needs around them. Paschall comes out of the box ready to shoot and his tough defensive game makes for an intriguing fit next to Green or Kevon Looney, assuming the free-agent-to-be returns.
29. San Antonio Spurs: Luka Samanic, F (Croatia)
AH: With San Antonio owning two first-round picks, the Croatian combo forward is a potential draft-and-stash, even though he prefers to come to the NBA right away. Only 19 years old, Samanic has shown a varied offensive game already, but may benefit from more time overseas.
30. Detroit Pistons: Bruno Fernando, C (Maryland)
CC: Although center is not the Pistons' biggest need, Fernando should be able to come in and take control of the backup spot in Detroit right away. He showcased shooting touch during workouts, but he didn't quite do the same in live game action at Maryland. Still, Detroit could do worse in this spot than a player who could eventually replace Andre Drummond.
Photos courtesy of USA Today Sports Images.