When word broke last week that Hornets second-round pick Jalen McDaniels had signed with the team, it meant that we now know the 2019/20 plans for all 60 of this year's NBA draft picks.
The majority of this year's draftees signed NBA contracts and will be on rosters this season, but that's not the case for all of them. And even among those that received NBA deals, there are plenty of differences in the terms of their contracts.
Let's break down the contract situations for all 60 of this year's picks…
First-rounders:
Generally, with the possible exception of one or two players who are drafted-and-stashed in an international league, the landscape for first-round picks is pretty simple to assess. The NBA's rookie scale establishes set salaries for all 30 draft slots in the first round, and virtually every player signs for 120% of their rookie scale figure, the maximum amount allowed by the league's Collective Bargaining Agreement.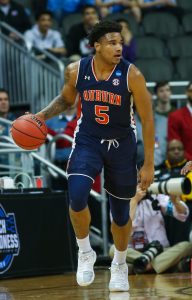 However, a pair of first-round picks threw a wrench into the usual routine this year. Magic first-rounder Chuma Okeke, the No. 16 overall pick, agreed to postpone the signing of his rookie contract until 2020 and will instead sign a G League contract to rehab his torn ACL with the Lakeland Magic this season. While we don't know for sure, that's probably something that Orlando and Okeke's camp discussed – and perhaps agreed upon – before the team drafted him in June.
Meanwhile, the Cavaliers became the first team in years to sign a first-round pick for less than 120% of his rookie scale amount when they completed their deal with No. 30 overall pick Kevin Porter Jr. The rookie scale amount for the No. 30 slot this season was $1,613,700, but Porter's first-year salary will be $1,290,960, 80% of that figure. That's the minimum amount allowed by the CBA.
Porter will also earn less than 120% of his rookie scale amount in subsequent seasons, bringing the total four-year value of his contract to $8,009,193. If he had received 120% of his rookie scale amount in every season, his deal would be worth $9,944,923.
Our full breakdown of the salary details for this year's first-rounders can be found right here.
Second-rounders:
With no set rookie scale for second-round picks, this is where things get even more interesting. Teams are allowed to go over the cap with the rookie scale exception in order to sign first-rounders, but to lock up second-round picks, there's no such exception. Those players must be signed using cap space, mid-level, bi-annual or room exceptions, or the minimum salary exception.
As such, the contract details for second-rounders who signed NBA deals look pretty different from player to player. Here's a quick look:
Four-year contracts:
Three-year contracts:
Two-year contracts:
Talen Horton-Tucker, Lakers ($2.42MM). Fully guaranteed.
One-year contracts:
Jalen McDaniels, Hornets ($898K). Non-guaranteed.
With 18 second-round picks signing standard NBA contracts ranging from one year to four years, that leaves 12 second-rounders who ended up taking a different path. These players won't start the season on 15-man NBA rosters, but their teams still hold their NBA rights.
Here's what those players are doing:
Signed two-way contracts:
Signed G League contracts (domestic draft-and-stash):
Jaylen Hands, Nets
Playing overseas (international draft-and-stash):
Marcos Louzada Silva, Pelicans: Playing in Australia (Sydney Kings).
Deividas Sirvydis, Pistons: Playing in Lithuania (Rytas Vilnius).
Vanja Marinkovic, Kings: Playing in Spain (Valencia).
Salary information from Basketball Insiders used in the creation of this post. Photos courtesy of USA Today Sports Images.