Grizzlies center Jonas Valanciunas won't opt into the final year of his contract, according to ESPN's Adrian Wojnarowski, who reports that Valanciunas intends to turn down his 2019/20 player option. June 13 represented the deadline for the veteran big man to make his decision.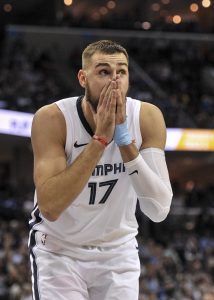 The player option would have paid Valanciunas a salary of $17,617,976 next season if it had been exercised, per Basketball Insiders. Instead, he'll head to the open market on June 30 in search of a new contract, though his priority will be to negotiate a new deal with Memphis, says Wojnarowski.
According to Woj, new Grizzlies VP of basketball operations Zach Kleiman and Valanciunas' agent Leon Rose are set to work "aggressively" on finding a new agreement that works for both sides.
Valanciunas, 27, spent the first six and a half years of his NBA career in Toronto, but was sent to the Grizzlies in February in the deadline deal that saw the Raptors acquire Marc Gasol.
After putting up the best numbers of his career on a per-minutes basis through 30 games with the Raptors, Valanciunas continued that trend with the Grizzlies while taking on an expanded role. In 19 games (17 starts) down the stretch with his new team, he averaged a double-double (19.9 PPG, 10.7 RPG) with 2.2 APG and 1.6 BPG in just 27.7 minutes per contest.
Although Valanciunas has always been a strong interior scorer and rebounder, as last year's numbers showed, he doesn't have a ton of shooting range and isn't an elite defender. As such, there's no guarantee he'll be able to match his $17.6MM option salary on a new contract.
However, opting out and signing a new deal will allow Valanciunas to gain more long-term security. Even if his new annual salary doesn't represent a raise, he certainly should be able to surpass $17.6MM in total value on his next contract. The Grizzlies will have his Bird rights, so they won't face any restrictions in what they can offer him.
To keep tabs on all of this offseason's player option decisions, be sure to check out our tracker.
Photo courtesy of USA Today Sports Images.