5:08pm: Durant has made it official by announcing via Instagram that he'll sign with the Nets.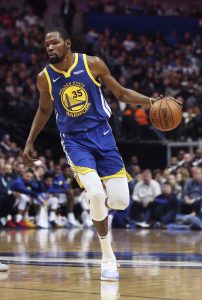 3:55pm: Free agent forward Kevin Durant plans to sign with the Nets, reports ESPN's Adrian Wojnarowski (via Twitter). Durant will make a formal announcement via Instagram once free agency officially opens at 6:00pm eastern time, tweets Wojnarowski.
According to Shams Charania of The Athletic (via Twitter), Durant will sign a four-year, maximum-salary contract with Brooklyn. The deal will be worth $164,255,700.
[UPDATE: Durant will accept less than the max to accommodate a $40MM deal for DeAndre Jordan]
[UPDATE: Durant expected to be acquired via sign-and-trade involving D'Angelo Russell]
It's a fascinating decision by Durant, who was long believed by league insiders to be eyeing a move to the Knicks if he opted not to return to the Warriors. However, as it became increasingly clear that KD's good friend Kyrie Irving would sign with Brooklyn, there was increased speculation that the Nets could be in play for Durant too. He and Irving had reportedly discussed the idea of playing together, and now they'll get that chance.
Of course, while the two stars will share a locker room in Brooklyn, they'll have to wait a little longer to actually take the court together. Durant is expected to miss the full 2019/20 season as he recovers from the torn Achilles he suffered during Game 5 of the NBA Finals.
Additionally, the Nets will have to make at least one more roster move before they can technically sign both Irving and Durant. Because KD's maximum salary is higher than Kyrie's, Brooklyn is still about $1.2MM short of that second max slot, tweets ESPN's Bobby Marks.
In addition to adding Durant and Irving, the Nets have reportedly lined up deals with DeAndre Jordan and Garrett Temple. They'll join a core that features Caris LeVert, Jarrett Allen, Joe Harris, and Spencer Dinwiddie. All-Star point guard D'Angelo Russell will be headed elsewhere with Irving arriving in Brooklyn.
As for the Warriors, losing Durant means they're no longer facing a record-setting luxury tax bill, but they figure to be aggressive in seeking ways to upgrade their roster with their two-time Finals MVP no longer in the mix.
Photo courtesy of USA Today Sports Images.