JULY 6, 10:51pm: The signing is official, tweets Stefan Bondy of The New York Daily News.
JUNE 30, 8:57pm: In an unexpected turn of events, Wojnarowski reports (via Twitter) that Jordan will sign a four-year, $40MM deal with the Nets. It'll be fully guaranteed, with no options, tweets Michael Scotto of The Athletic.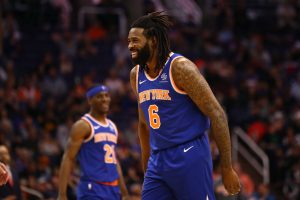 Brooklyn doesn't have the cap room necessary to complete such a deal while also signing Durant and Irving to max deals, but according to Woj and Ramona Shelburne (via Twitter), KD and Kyrie have agreed to accept less than their respective maxes in order to accommodate Jordan's deal.
As Bobby Marks of ESPN.com notes (via Twitter), the Nets could potentially include unlikely incentives in Durant's and KD's contracts to help create extra cap room while still giving them a shot to earn up to their maxes.
JUNE 30, 4:05pm: In addition to Kevin Durant and Kyrie Irving, the Nets have also agreed to a deal with free agent center DeAndre Jordan, according to ESPN's Adrian Wojnarowski (Twitter link).
While Jordan is hardly the biggest free agent to commit to Brooklyn today, he's a coup for a club that didn't have much cap flexibility after agreeing to sign Durant and Irving.
The Nets also reportedly agreed to terms with Garrett Temple on a deal that looks like it's worth the room exception. As such, Jordan could end up being a minimum-salary signing, unless Brooklyn is able to create additional cap room by trading or waiving another player.
Jordan, who will turn 30 in July, averaged 11.0 PPG, 13.1 RPG, and 1.1 BPG in 69 total games for the Mavericks and Knicks in 2018/19. He was sent from Dallas to New York in the deadline deal that saw Kristaps Porzingis land with the Mavs.
Rather than buying out Jordan, the Knicks hung onto him, thinking that his presence might help lure his good friend Durant to New York. While the thinking was right, it's New York's other team that will deliver on that idea, as the duo is set to join the Nets.
Photo courtesy of USA Today Sports Images. Luke Adams contributed to this post.