JULY 7: Both deals are now finalized, with the Pacers formally announcing the addition of Lamb today. The Brogdon sign-and-trade was confirmed on Saturday.
JUNE 30: The Pacers have reached a pair of deals to add two noteworthy free agents to their roster. According to Shams Charania of The Athletic (via Twitter), the team has struck an agreement to acquire Malcolm Brogdon and will sign Jeremy Lamb to a three-year, $31.5MM contract.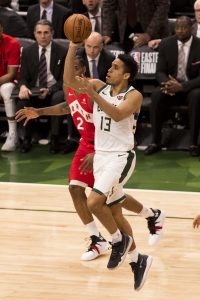 ESPN's Adrian Wojnarowski reports (via Twitter) that the Pacers are signing Brogdon to a four-year, $85MM deal and will acquire him via sign-and-trade to ensure that the Bucks don't match the offer. Milwaukee will receive a first-round pick and a pair of future second-rounders, per Woj. All four years of Brogdon's deal are guaranteed, adds David Aldridge of The Athletic (via Twitter).
The additions of Brogdon and Lamb represent an interesting pivot for the Pacers, who had reportedly hoped to re-sign Bojan Bogdanovic, and appeared to be on track to add Ricky Rubio to replace departed point guards Darren Collison and Cory Joseph. Instead, Bogdanovic will head to the Jazz on a four-year deal, while Rubio agreed to sign a three-year contract with the Suns.
It's probably not fair to characterize Brogdon and Lamb as fallback options though. Brogdon was viewed as one of this year's top restricted free agents after recording 15.6 PPG, 4.5 RPG, and 3.2 APG with an impressive .505/.426/.928 shooting line in 2018/19. As for Lamb, he was Charlotte's second-best scorer behind Kemba Walker, averaging 15.3 PPG and 5.5 RPG on .440/.348/.888 shooting for the Hornets.
The duo will join a backcourt that will feature a healthy Victor Oladipo at some point during the 2019/20 season (though likely not by opening night). The Pacers still project to have about $5MM in cap room after agreeing to their deals with Brogdon and Lamb, notes ESPN's Bobby Marks.
Gery Woelfel of Woelfel's Press Box first reported (via Twitter) that the Bucks were working on a sign-and-trade involving Brogdon. Milwaukee reached deals to bring back Khris Middleton and Brook Lopez and is reportedly working on trying to bring back George Hill as well. Additionally, sending Brogdon to Indiana will generate a traded player exception for the Bucks, which will be worth half of Brogdon's first-year salary.
Photo courtesy of USA Today Sports Images.