Veteran Rockets center Nene has decided to opt out of his contract to become an unrestricted free agent, reports ESPN's Adrian Wojnarowski (via Twitter). Nene's contract featured a $3,825,360 player option for the 2019/20 season, which he'll turn down.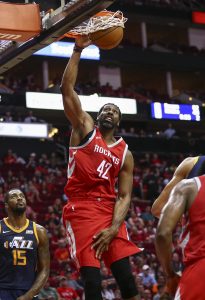 Nene, 36, averaged a career-low 13.0 minutes per contest in Houston last season, recording 3.6 PPG and 2.9 RPG in 42 games.
Given his age and his increasingly limited role with the Rockets, Nene's decision to forgo a salary of nearly $4MM isn't one I anticipated. It will be interesting to see how he does on the open market — perhaps his agent got word that another team is ready to put a more favorable offer on the table, or perhaps he's doing Houston a favor.
The Rockets are said to be in the running for Jimmy Butler, who would have to be acquired in a sign-and-trade deal. That would put a hard cap on Houston's spending for the 2019/20 league year.
Removing Nene's $3.8MM cap hit from their books would give the Rockets some much-needed flexibility in that scenario and the veteran big man could still theoretically return on a minimum salary deal. He'd earn a projected $2.56MM on a one-year minimum contract, but would only have a cap hit of about $1.62MM.
Of course, it's possible Nene won't seek a new contract at all. According to Alykhan Bijani of The Athletic (via Twitter), retirement is a viable possibility for the former seventh overall pick.
Nene's player option decision was the last one to be reported for the 2019/20 season. The full list can be found here.
Photo courtesy of USA Today Sports Images.