As expected, the Suns will decline Jimmer Fredette's team option for the 2019/20 season, reports Shams Charania of The Athletic (via Twitter). The option would have paid Fredette a salary of $1,988,119 if it had been exercised, per Basketball Insiders.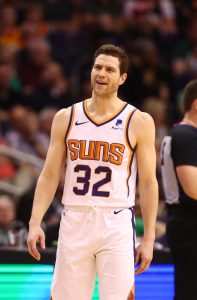 Warriors assistant GM Larry Harris confirmed earlier today that Fredette would be a part of Golden State's Summer League roster in July. It wouldn't have been possible for the former BYU standout to play for the Warriors in Summer League if he were still under contract with Phoenix.
Fredette, 30, returned to the NBA near the end of the 2018/19 campaign after spending multiple seasons in China. The sharpshooter struggled in six games with Phoenix down the stretch, averaging 3.7 PPG on 27.6% shooting in six games (10.8 MPG). He missed all 13 of his three-point attempts.
Fredette had been lighting up in China in recent years, putting up massive scoring numbers for the Shanghai Sharks. While he has never developed into a particularly effective NBA rotation player since being drafted 10th overall in 2011, his Summer League agreement with the Warriors suggests that he's going to keep trying to make his way onto an NBA roster for 2019/20.
Photo courtesy of USA Today Sports Images.