Longtime NBA point guard Tony Parker has decided to retire from the NBA, he tells Marc J. Spears of The Undefeated. Parker, who had spoken in the past about wanting to play 20 seasons, will instead call it a career after spending 18 years in the NBA.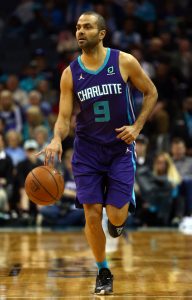 "I'm going to retire," Parker told Spears. "I decided that I'm not going to play basketball anymore."
Parker, the 28th overall pick in the 2001 draft, made his debut for the Spurs later that year and played in San Antonio for the next 17 seasons. During that stretch, he made six All-Star appearances and earned four All-NBA nods. He won four championships with the Spurs and was named the NBA Finals MVP in 2007.
Over the course of his career, which include with one season with the Hornets in 2018/19, Parker averaged 15.5 PPG and 5.6 APG in 1,254 regular season games (30.5 MPG). The Frenchman appeared in 226 postseason contests, averaging 17.9 PPG and 5.1 APG in those games.
Parker, who turned 37 years old in May, tells Spears that he feels like he's physically capable of playing two more seasons in the NBA. However, he feels like the time is right to move on from his playing career.
"A lot of different stuff ultimately led me to this decision," Parker said. "But, at the end of the day, I was like, if I can't be Tony Parker anymore and I can't play for a championship, I don't want to play basketball anymore."
While Parker moved on from the Spurs last summer, his retirement still represents the end of an era in San Antonio, where Tim Duncan and Manu Ginobili also retired in recent years. The NBA has now lost three future Hall-of-Famers at the end of the 2018/19 season, with Dirk Nowitzki and Dwyane Wade also playing their final games.
According to Spears, Parker plans to continue living in San Antonio during his retirement, but will also spend time in France, where he's the owner and president of French basketball club ASVEL. Spears' article includes a lengthy Q&A with the veteran point guard, and is worth checking out in full.
Technically, Parker's contract remains on the Hornets' books for the 2019/20 season, but his $5.25MM salary is non-guaranteed. The club figures to release him at some point before his guarantee date on July 4.
Photo courtesy of USA Today Sports Images.