JULY 6: The Trail Blazers have officially signed Lillard to his super-max extension, the team announced today in a press release.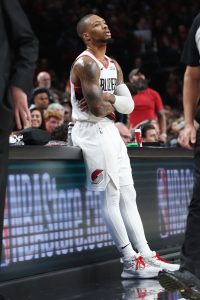 "Since the day we drafted Damian he has exemplified every quality an organization could hope for in a franchise player," Olshey said in a statement. "His perpetual leadership, willingness to embrace responsibility for outcome on the floor and ability to set a cultural standard illustrates what it means to be a Portland Trail Blazer and makes us ecstatic he has chosen to extend his contract at the first opportunity."
JUNE 30: The Trail Blazers and franchise point guard Damian Lillard are working toward an agreement on a four-year, $196MM super-max contract extension, per Shams Charania of The Athletic and Stadium. Brian Windhorst of ESPN is reporting that the two sides have agreed on a deal, with Lillard also set to receive a player option for the 2024/25 season.
The extension will begin during the 2021/22 season. As we relayed yesterday, the projected cap figure for that season is $125MM, meaning that Lillard would earn an estimated $43.75MM in 2021/22, $47.25MM in 2022/23, $50.75MM in 2023/24, and a whopping $54.25MM in 2024/25.
Chris Haynes of Yahoo Sports first indicated back in May that Portland and it's star guard were working toward an extension. As we wrote then, Lillard's four-year extension would cover his age 31-to-34 seasons, with the 29-year-old All-Star poised to make nearly $55MM at age 34.
Today, Haynes adds (link) that Lillard, his representatives, and Trail Blazers president of basketball operations Neil Olshey are meeting in Oakland tonight to finalize the maximum-contract extension.
Lillard, coming off one of his best seasons as a pro, averaged 25.8 PPG, 4.6 RPG, and a career-high 6.9 APG in 80 games for Portland on his way to being named All-NBA Second Team for the 2018/19 campaign.
Photo courtesy of USA Today Sports Images.