JULY 9: Hill has officially re-signed with the Bucks, the team announced today in a press release.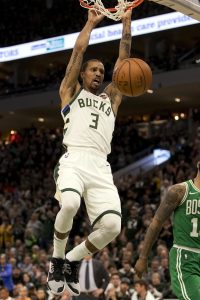 "George is a consummate pro and an important part of our team," GM Jon Horst said in a statement. "His veteran leadership and steady guard play were instrumental to our success last season, both during the regular season and the playoffs. We are thrilled to have him back with the Bucks."
JULY 2: The Bucks officially waived Hill on Monday, according to the NBA's transactions log. He'll clear waivers this week, and then Milwaukee will be able to officially re-sign him once the moratorium ends on Saturday.
JUNE 30: The Bucks are set to re-sign veteran guard George Hill on a three-year, $29MM deal, Shams Charania of The Athletic tweets. The deal has a partial guarantee in year three, tweets Matt Velazquez of The Milwaukee Journal Sentinel.
Milwaukee plans to waive Hill, who was originally set to make $18MM next season, and formally sign him to his new contract once the moratorium period ends on July 6.
Hill was a key cog for the Bucks during the postseason, scoring 11.5 points per game on 53% shooting from the floor and 42% shooting from 3-point range. Milwaukee values his experience, leadership and mentality on the hardwood and in the locker room.
The Bucks lost guard Malcolm Brogdon to Indiana on Sunday, but the team also worked to secure multi-year commitments from Hill, Khris Middleton, and two Lopezes — Brook Lopez and Robin Lopez.
Milwaukee will need to make at least one more roster move to fit Hill's new contract in under the cap, notes ESPN's Bobby Marks (via Twitter). While the deal is worth the same amount as the mid-level exception, the Bucks won't have that exception available because they'll need to use cap room to re-sign Brook Lopez.
Photo courtesy of USA Today Sports Images.