JULY 11: Middleton's new deal with the Bucks is now official, the team confirmed today in a press release.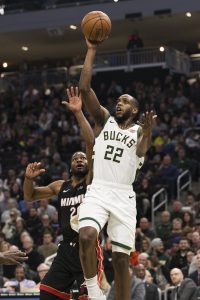 "Khris is a critical piece of our core," GM Jon Horst said in a statement. "As an All-Star, Khris was an integral part of us winning 60 games and advancing to the Eastern Conference Finals. He has also established himself as a leader on our team both on the court and in the community. We're thrilled Khris is staying in Milwaukee and look forward to even more success together."
JUNE 30: Free agent Khris Middleton will re-sign with the Bucks on a five-year, $178MM contract, according to ESPN's Adrian Wojnarowski (Twitter link). The deal is expected to include a player option in the final season.
Middleton, 27, is coming off a season where he averaged 18.3 points, six rebounds and 4.3 assists per game, shooting 44% from the field and 38% from 3-point range. He was a key contributor to the Bucks' success last season, helping the team reach the Eastern Conference Finals.
Middleton was eligible to receive a maximum salary of $189,903,600 on a five-year contract, so the Bucks will get a slight discount below that rate. Milwaukee is still paying him more than he could have received from any other team — a rival suitor's offer would have maxed out at around $141MM over four years.
Milwaukee is also expected to re-sign center Brook Lopez to a four-year, $52MM deal, as reported by Wojnarowski. The team will bring back veteran guard George Hill as well, agreeing to re-sign him to a three-year, $29MM deal after waiving him to avoid a $17MM guarantee for 2019/20.
While the Bucks did well to lock up most of their key free agents, Malcolm Brogdon won't be back. The Bucks have reportedly agreed to a sign-and-trade to send Brogdon to the Pacers, who will pay him $85MM over four years. Milwaukee will get back multiple draft picks, including a first-rounder, in exchange for Brogdon.
The Bucks are on track to stay out of the tax with Brogdon out of the picture. The team could use its $4.8MM room exception to add another rotation piece.
Photo courtesy of USA Today Sports Images. Luke Adams contributed to this post.