JULY 7: The Bulls' acquisition of Satoransky via sign-and-trade is now official, the team announced in a press release.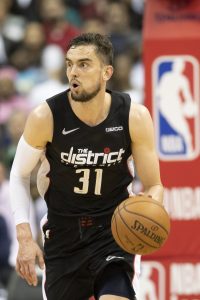 JULY 1: The Bulls have reached an agreement with the Wizards to acquire restricted free agent point guard Tomas Satoransky via a sign-and-trade deal, reports ESPN's Adrian Wojnarowski (via Twitter).
In return, the Wizards will acquire two second-round picks. The 2023 second-round pick (protected 31-36) that the Bulls sent the Wizards in the Otto Porter trade will also have its protections removed as part of this deal, according to David Aldridge of The Athletic (via Twitter).
Wojnarowski (via Twitter) has the full details on the assets the Wizards are acquiring from the Bulls. They are as follows:
Either the Bulls' or Grizzlies' 2020 second-round pick (whichever is more favorable).
The right to swap the Lakers' 2022 second-round pick for either the Bulls' or Pistons' 2022 second-round pick (whichever is more favorable).
The 31-36 protection removed from the Bulls' 2023 second-round pick.
According to Wojnarowski, Satoransky will ink a three-year contract with Chicago. Emiliano Carchia of Sportando (Twitter link) hears the deal will be worth $30MM, while Johnson tweets that the third year isn't expected to be fully guaranteed.
A former second-round pick, Satoransky has spent his first three NBA seasons in Washington, and assumed the starting point guard role when John Wall when down last season. In 2018/19, he averaged 8.9 PPG, 5.0 APG, and 3.5 RPG in 80 games (27.1 MPG).
While Satoransky isn't a big-usage player, he has been an efficient caretaker in the backcourt. Last season, he shot .485/.395/.819 and turned the ball over just 1.5 times per game.
The Bulls entered the summer with about $23MM in cap room and intended to use it on a pair of veterans, including a point guard. They reached a three-year, $41MM deal with Thaddeus Young on Sunday night, and now figure to use their leftover space to finalize the acquisition of Satoransky. According to Wojnarowski (via Twitter), the 27-year-old will get the opportunity to start at the point for the Bulls, who will presumably be patient with lottery pick Coby White.
As for the Wizards, they agreed to terms with Ish Smith this morning, but will be in the market for more point guard help with Wall expected to be sidelined for a good chunk of 2019/20. According to Aldridge (via Twitter), they're talking to Isaiah Thomas and hope there's a fit there.
Photo courtesy of USA Today Sports Images.