JULY 6: The trade between the Celtics and Suns is now official, Boston announced today (via Twitter).
JUNE 20: The Celtics, who obtained the No. 24 selection from the Sixers earlier tonight, have agreed to trade the pick to the Suns, who have drafted Virginia point guard Ty Jerome (per Adrian Wojnarowski of ESPN). The Celtics also included big man Aron Baynes in the deal, tweets Shams Charania of The Athletic and Stadium.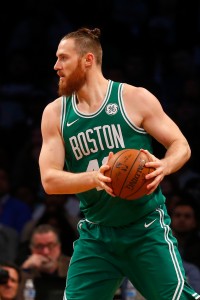 According to Adam Himmelsbach of The Boston Globe, Boston received a future draft pick from Phoenix in exchange for the rights to draft Jerome, and both Woj and Tim Bontemps of ESPN (link) report that the Suns are sending the Celtics the Bucks' 2020 first-round pick. All told, the Suns will obtain both Baynes and Jerome, while the Celtics, who were said to be looking to move on from Baynes, pick up a first-rounder in next year's draft.
The Bucks, of course, are expected to be one of the better teams in the league next season, so Boston's selection will likely fall near the end of the first round, but they were evidently willing to wait a year for the first-round pick in order to move Baynes.
ESPN's cap guru Bobby Marks notes that Phoenix is now down to a projected $14MM in cap space after accounting for Baynes' salary and the cap hold for Jerome, which will surely curtail the level of free agent point guard Phoenix will be able to pursue on the free agent market this summer.
As for the Celtics, salary cap expert Albert Nahmad (link) notes that by trading Baynes and both the No. 20 and No. 24 picks away, Boston now has the ability to increase its cap room to $34.8MM, if Terry Rozier's cap hold is renounced (h/t to Marks).