JULY 8, 7:17pm: The deal is official, according to a Dallas press release. The Mavs sent the draft rights to 2015 second-rounder Satnam Singh to the Grizzlies in addition to two second-round picks. A Memphis press release confirms the deal.
JULY 7, 3:47pm: The Mavericks, Grizzlies, and restricted free agent guard Delon Wright have reached an agreement on a sign-and-trade deal that will send Wright to Dallas, reports ESPN's Adrian Wojnarowski (Twitter link). Memphis will receive two second-round picks from the Mavs in the deal, according to Wojnarowski.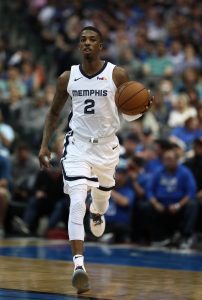 Agent Greg Lawrence tells Woj (Twitter link) that Wright will be receiving a three-year, $29MM contract from the Mavericks.
We'd heard since Thursday that Dallas, one of the only teams that still had cap flexibility, was planning an offer sheet for Wright. As Brad Townsend of The Dallas Morning News tweets, the Grizzlies didn't want to lose him for nothing but also weren't committed to matching an offer sheet at any cost. The Mavs, on the other hand, were likely wary of having Memphis match their offer — or of having to overpay Wright to avoid that scenario.
The sign-and-trade agreement represents a compromise for the Southwest rivals, and is the latest example of what has become a summer-wide trend around the NBA — no restricted free agent has signed an offer sheet, but six RFAs have reached deals to join new teams via sign-and-trade.
The 20th overall pick in the 2015 draft, Wright spent the first three and a half seasons of his NBA career with the Raptors before being dealt to Memphis in the Marc Gasol trade at this year's deadline. After never averaging more than 20.8 minutes per game in Toronto, the 27-year-old saw that number bumped to 30.8 MPG in 26 games with the Grizzlies and responded by averaging 12.2 PPG, 5.4 RPG, 5.3 APG, and 1.6 SPG.
In Dallas, Wright figures to share ball-handling duties with the likes of Jalen Brunson, J.J. Barea (when he's healthy), and – of course – Luka Doncic.
After accounting for Wright's contract, the Mavs project to have no more than $14.6MM in cap room, tweets cap expert Albert Nahmad. Dallas' contract agreements with Dorian Finney-Smith, Maxi Kleber, and Kristaps Porzingis would eat up that room once they become official since their new salaries are much higher than their cap holds.
If the Mavs don't have any other deals on tap, it's possible they'll remain an over-the-cap team, taking Wright into their $21.3MM trade exception and using the mid-level exception to sign Seth Curry. That would leave the team with the rest of that big trade exception to use during the season.
As for the Grizzlies, they'll move forward with No. 2 pick Ja Morant handling point guard duties, but we'll see if they look to add more depth after losing Wright. De'Anthony Melton is the other point guard on the roster. Memphis has about $115MM in projected team salary on its books and will create a trade exception worth half of Wright's 2019/20 salary in this sign-and-trade, tweets ESPN's Bobby Marks.
Photo courtesy of USA Today Sports Images.