JULY 7: The trade is official, the Hawks announced in a press release.
JULY 3: The Grizzlies and Hawks have agreed to a trade, according to ESPN's Adrian Wojnarowski, who reports (via Twitter) that Memphis will send Chandler Parsons to Atlanta in exchange for Solomon Hill and Miles Plumlee.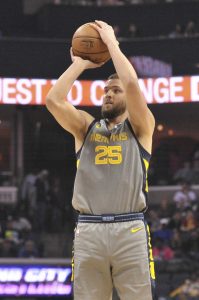 Like the Hawks' trade earlier this offseason of Kent Bazemore for Evan Turner, this deal will be a swap of expiring contracts and will be a virtual wash in terms of salary. Unlike that Bazemore/Turner trade though, it's not clear if any of the players involved in this deal will actually see regular playing time in 2019/20.
Parsons, who will earn about $25.1MM next season, signed a four-year, maximum-salary contract with the Grizzlies during the summer of 2016, but battled injuries and failed to make an impact for the team during his three seasons in Memphis. In total, he appeared in just 95 games over three years, averaging 7.2 PPG and 2.6 RPG with a .393/.341/.779 shooting line.
Parsons and the Grizzlies had a particularly tumultuous year in 2018/19, with Parsons claiming in December that he was healthy and that the team was refusing to play him. He later took a leave of absence from the club.
According to Wojnarowski (via Twitter), the two sides were unable to reach an agreement on a buyout this summer, so Memphis will send Parsons to Atlanta, removing a potential distraction from the roster. As ESPN's Bobby Marks points out (via Twitter), the mid-sized contracts of Plumlee and Hill will be easier for the Grizzlies to move in subsequent deals.
It remains to be seen if the Hawks believe Parsons has the ability to be an on-court contributor for them in 2019/20. Even if they don't plan to play (or keep) him, there are a couple potential benefits for Atlanta. Moving two contracts for one will open up a roster spot, and Parsons' salary is worth slightly less than the combined total of the salaries for Plumlee ($12.5MM) and Hill ($12.76MM).
A pair of separate trades will need to be completed before this one can be finalized. Hill is going from New Orleans to Atlanta in a trade involving the No. 4 pick, which in turn is part of the Pelicans' Anthony Davis trade. The Pelicans/Lakers swap will need to be made official first, followed by the Pelicans/Hawks deal, then the Hawks/Grizzlies trade.
Photo courtesy of USA Today Sports Images.