JULY 6: A month after it was agreed upon, the Nets have officially traded Crabbe to the Hawks along with the No. 17 pick (Nickeil Alexander-Walker) and a lottery-protected first-round pick in exchange for Prince and the Hawks' 2021 second-rounder, according to press releases from both teams.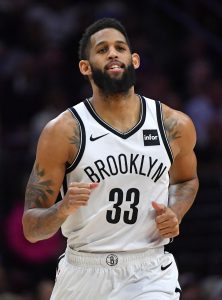 Brooklyn will, of course, use its cap room to sign Irving and Durant.
JUNE 6: The Nets and Hawks have agreed to a trade that will send Allen Crabbe, the No. 17 pick in the 2019 draft, and a lottery-protected 2020 first-round pick to Atlanta in exchange for Taurean Prince and a 2021 second-round pick, reports ESPN's Adrian Wojnarowski (Twitter links).
The move will allow the Nets to clear more than $17MM from their books for the 2019/20 season by swapping Crabbe's expiring $18.5MM deal for Prince's ($3.48MM) and clearing the cap hold for the No. 17 pick. That will put Brooklyn on track to enter the offseason with more than $47MM in cap space. The Nets will now have a clearer path to creating two maximum-salary cap slots if they're willing to renounce D'Angelo Russell's cap hold.
[RELATED: Latest On D'Angelo Russell]
The fact that the Nets were willing to agree to move Crabbe so early in the offseason signals that they have big plans for that extra cap room, which is particularly intriguing given the recent rumors linking Kyrie Irving to Brooklyn. According to Wojnarowski (via Twitter), Irving is "serious" about the Nets, and Brooklyn is looking to beat out the Knicks and the rest of the NBA for top free agents this summer.
If Russell is renounced, the Nets would have enough cap space for Irving and another maximum-salary free agent, unless that player has 10+ years of NBA experience (like Kevin Durant). In that scenario, the club would have to make one more modest cost-cutting move.
Besides creating extra cap flexibility, the Nets also pick up a solid young wing with three-and-D potential in Prince. The 25-year-old has averaged 13.9 PPG, 4.3 RPG, and 2.4 APG with a .431/.387/.834 shooting line in 137 games (29.3 MPG) over the last two seasons in Atlanta. He's extension-eligible this offseason and will be a restricted free agent in 2020 if he doesn't get a new deal.
From the Hawks' perspective, acquiring Crabbe in exchange for Prince and their 2021 second-round pick will allow them to pick up two extra first-round selections, which could be used to add two more young prospects to their core or could be dangled in subsequent trade discussions.
Atlanta is now armed with three top-20 picks in the 2019 draft (Nos. 8, 10, and 17). There have been rumors that the Hawks have explored the idea of packaging their two top-10 picks to move up — adding the No. 17 selection to the mix should give the club more leverage in those discussions.
Meanwhile, the on-court impact of swapping out Prince for Crabbe shouldn't be significant, as they play fairly similar roles. While Crabbe's lucrative contract isn't team-friendly, he has still been a very good three-point shooter in recent years, posting a .396 3PT% since signing his four-year deal in 2016, and his deal will expire after the 2019/20 season.
The Hawks' cap room for 2019 will be cut nearly in half by the deal, but the team still projects to have about $23-25MM in space.
As Bobby Marks of ESPN.com observes (via Twitter), the two teams won't be able to complete the trade until July, since the Hawks won't have the cap room necessary to absorb Crabbe's contract until the new league year begins.
Photo courtesy of USA Today Sports Images.