JULY 6: The trade is official, the Hornets announced in a press release. In addition to swapping Walker for Rozier, Charlotte has received a protected 2020 second-round pick and sent a 2020 second-rounder to Boston. The pick going to the Celtics is coming from the Knicks or Nets through the Magic, tweets Rick Bonnell of The Charlotte Observer. "We're excited to be able to acquire Terry in this sign-and-trade deal," Hornets GM Mitch Kupchak said. "He is an up-and-coming player who has shown continued improvement in his four NBA seasons, and we believe he can take that next step as a starting point guard in this league."
JUNE 30: The Hornets are on track to acquire Celtics RFA point guard Terry Rozier via a sign-and-trade deal, reports Shams Charania of The Athletic (via Twitter). According to Charania, Rozier will get a three-year, $58MM deal, and it will be fully guaranteed (Twitter link).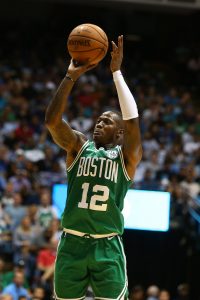 Rozier will replace longtime Hornets point guard Kemba Walker in Charlotte's backcourt, with Walker reportedly set to join the Celtics. The Hornets entered the offseason projected to be an over-the-cap team with no room available to make a bid for Rozier, so working out a sign-and-trade with Boston involving Kemba will allow them to add a quality replacement at the point.
Rozier, 25, had a down year in 2018/19 as he struggled with an inconsistent role coming off the bench behind Irving. However, he flashed serious upside down the stretch in 2017/18, averaging 16.5 PPG, 5.7 APG, and 5.3 RPG in 19 playoff games that spring. The Hornets will be counting on him to recapture that form in Charlotte.
As cap expert Albert Nahmad details (via Twitter), the Hornets, Celtics, and Nets may complete a three-way deal involving a handful of signed-and-traded players, with Kyrie Irving headed to Brooklyn. While such a deal could theoretically work financially, the Nets would need to be incentivized to cooperate and help out two conference rivals.
The Hornets will become hard-capped as a result of acquiring Rozier via a sign-and-trade, tweets ESPN's Bobby Marks. The Celtics would also face a hard cap if they land Walker via sign-and-trade. Both teams would be prohibited from spending beyond the $138,928,000 tax apron during the 2019/20 league year.
If they can acquire Walker without using cap room and remain an over-the-cap team, the Celtics could retain Al Horford's Bird rights and could technically bring him back. Chris Mannix of SI.com and Keith Smith of RealGM suggest (via Twitter) that Boston is aggressively exploring avenues to make that work, but Steve Bulpett of The Boston Herald (Twitter link) hears from a source close to Horford that he's still unlikely to return.
Photo courtesy of USA Today Sports Images.