JULY 10: Leonard has officially signed his contract with the Clippers, according to Shams Charania of The Athletic (Twitter link), who reports an interesting twist.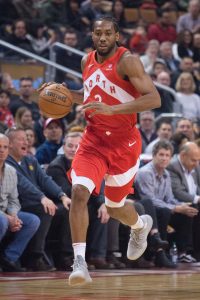 Kawhi's new contract will actually be a three-year deal with a third-year player option, per Charania. That would give the star forward an opportunity to opt out and secure a higher maximum salary in 2021, when he'll have 10 years of NBA experience.
As Charania notes (via Twitter), that also lines up Leonard's deal with George's — both players can opt out in '21.
Leonard's three-year, maximum-salary contract will be worth $103,137,300.
JULY 6: Reigning NBA Finals MVP  and top 2019 free agent Kawhi Leonard has decided to sign with the Clippers, reports Chris Haynes of Yahoo Sports (via Twitter). Leonard has informed the runner-up teams – the Raptors and Lakers – of his decision, tweets ESPN's Adrian Wojnarowski.
Although the Clippers had been rumored all year to be the top contender for Leonard, his decision still represents a shocking turn, as reports in recent weeks had increasingly pointed toward the Lakers or the defending-champion Raptors as more probable long-term homes for Kawhi while those Clippers rumors died down to some extent.
However, it will be the little brother in Los Angeles that makes the biggest splash of 2019's free agent period, as the Clippers have also agreed to acquire Paul George in a trade with the Thunder. Leonard had been recruiting George to try to find a way to team up with him on the Clippers, according to Wojnarowski, who tweets that the two All-NBA forwards found a way to pull it off after George requested a trade from Oklahoma City.
Leonard's agreement with the Clippers – which will be a four-year, maximum-salary deal worth just shy of $141MM, per Wojnarowski (Twitter link) – represents the culmination of a saga that began during the 2017/18 season, when Kawhi missed all but nine games for the Spurs due to a mysterious quad injury.
A disagreement between Spurs team doctors and Leonard's camp about the extent of that injury led to the two-time Defensive Player of the Year losing trust in the franchise and making a trade request. Although Leonard was reportedly pushing for a deal that would send him home to Los Angeles, the Spurs instead traded him to Toronto in a blockbuster swap that featured DeMar DeRozan.
In his first and only season as a Raptor, Leonard led the team to a No. 2 seed in the East, then put together one of the all-time great postseason runs to help Toronto claim its first-ever NBA championship. Having averaged 26.6 PPG, 7.3 RPG, and 3.3 RPG in 60 regular season contests, Leonard boosted those marks to 30.5 PPG, 9.1 RPG, and 3.9 APG in 24 playoff games, posting a .490/.379/.884 shooting line against the Magic, Sixers, Bucks, and Warriors.
As Leonard weighed his free decision over the last week and took meetings with the three teams in the running for him, there was a sense that the Raptors and Lakers might have the most to offer the star forward. He had built a trust with the management team and training staff in Toronto, and the Raps had the ability to offer him a five-year contract, as well as the chance to defend a championship.
The Lakers, on the other hand, offered the opportunity to team with LeBron James and Anthony Davis — adding Leonard to that duo would have created arguably the NBA's all-time best "Big Three" and made the Lakers the immediate frontrunners for the 2020 title.
The Clippers, meanwhile, had missed out on 2019's other top free agents, leaving league observers to wonder if Leonard would still seriously consider them without a star to join him. However, Kawhi made it clear to the Clippers that he would commit to them if they could land George, tweets Wojnarowski.
The Clips paid a high price to do so, surrendering Danilo Gallinari, Shai Gilgeous-Alexander, five first-round picks, and two first-round pick swaps, but considering it was also the price necessary to acquire Leonard, it makes sense that the organization was extremely willing to go all-in on PG13.
Leonard will now team up with George to lead a roster that also features Lou Williams, Patrick Beverley, Montrezl Harrell, Landry Shamet, Rodney McGruder, Maurice Harkless, Jerome Robinson, and potentially RFA Ivica Zubac.
With Leonard headed to the Clippers, the Lakers will pivot to using their $32MM in cap room on role players, having quickly reached a deal to sign Kawhi's longtime teammate Danny Green.
As for the Raptors, they're capped out with or without Leonard and Green, so their ability to add new talent will be limited. Still, without needing to account for new deals for those two players, they'll have their full mid-level exception available and don't project to be a taxpaying team in 2019/20.
Photo courtesy of USA Today Sports Images.