JULY 10: Having announced the signing of Leonard earlier today, the Clippers have now officially confirmed their acquisition of George as well.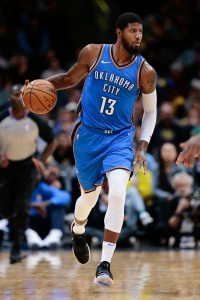 "Paul George is one of the greatest two-way players in our game," president of basketball operations Lawrence Frank said in a statement. "He is both an elite scorer and a relentless defender whose versatility elevates any team. When you have the opportunity to acquire a contributor of his caliber, you do what it takes to bring him home. Paul is a native of the Los Angeles area and an ideal fit for the Clippers, thanks to his selflessness and drive. Following the lead of Steve Ballmer, we have plotted an aggressive course to build a championship contender, and acquiring Paul is a critical step."
The Clippers are now over the cap, and all of the agreed-upon trades of the 2019 offseason (so far) have been officially completed.
JULY 6: In addition to landing No. 1 free agent Kawhi Leonard, the Clippers have reached a stunning trade agreement to acquire All-NBA forward Paul George from the Thunder, reports ESPN's Adrian Wojnarowski (Twitter link).
According to Wojnarowski (via Twitter), Oklahoma City will receive Shai Gilgeous-Alexander, Danilo Gallinari, and a "massive" haul of future draft picks in exchange for George.
That haul features four unprotected first-round picks, one protected first-rounder, and two pick swaps, Woj reports (via Twitter). The Thunder will receive the following selections, according to Marc Stein of The New York Times (via Twitter):
Heat's 2021 unprotected first-round pick.
Clippers' unprotected 2022 first-round pick.
Heat's 2023 first round pick (top-14 protected).
The right to swap first-round picks with the Clippers in 2023.
Clippers' unprotected 2024 first-round pick.
The right to swap first-round picks with the Clippers in 2025.
Clippers' unprotected 2026 first-round pick.
The Clippers held the Heat's unprotected 2021 first-round pick and will acquire Miami's 2023 lottery-protected first-rounder as part of the four-team Jimmy Butler sign-and-trade deal. That will allow the Clips to keep their own 2020 and 2021 first-rounders and send out five total picks while satisfying both the Stepien rule (which prohibits teams from leaving themselves without a first-round pick in consecutive future seasons) and the "Seven Year Rule" (which doesn't allow teams to trade first-rounders more than seven years in advance).
Those extra picks from the Heat pave the way the Clippers to make the biggest one-two punch of the free agent period, with their acquisition of George coming after Leonard had pushed PG13 to find a way to the Clippers, per Wojnarowski (Twitter links).
As Woj details, George approached the Thunder and requested a trade amidst Leonard's recruiting efforts, leaving Oklahoma City to try to make the best out of a difficult situation. The Thunder did just that, as their haul from the Clippers will land them a veteran on an expiring $22MM contract who was a borderline All-Star in 2019 (Gallinari), one of the most impressive rookies of the 2018 class (Gilgeous-Alexander), and a bounty of future draft picks.
Still, despite securing a huge package for George, the Thunder may not be out of the weeds quite yet. Shams Charania of The Athletic reports (via Twitter) that rival teams have been aware in recent days not just of George's discontent, but of Russell Westbrook's as well. It remains to be seen how Westbrook will feel about the departure of the All-Star teammate that he succeeded in keeping in OKC as a free agent a year ago, but with potential long-term cornerstone Gilgeous-Alexander in the mix at point guard, it wouldn't be surprising if the former MVP ends up on the trade block as well.
It's an abrupt change of direction for the Thunder, who expected as recently as last week to be building around Westbrook and George, according to Brett Dawson of The Athletic (Twitter link). As Dawson observes, even this week's free agent agreements with veterans like Alec Burks and Mike Muscala suggest that Oklahoma City was looking to fortify its current core rather than blow it up. It will be fascinating to see what the team's next move is.
For now though, the Clippers will steal the headlines, having delivered an incredible counter-punch to their Staples Center cohabitants after the Lakers reached a deal last month to acquire Anthony Davis.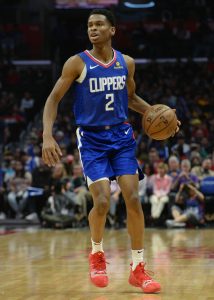 The Clippers are giving up a ton to acquire George, but it's unlikely that they would have gotten a commitment from Leonard without making the deal, according to Wojnarowski, who tweets that the Clippers recognized that they had to pull the trigger, lest they risk allowing the Lakers to steal Leonard and create a powerhouse.
In George, the Clippers will add a 29-year-old who is coming off his best season as a pro, averaging 28.0 PPG, 8.2 RPG, 4.1 APG, and a league-best 2.2 SPG in 77 games (36.9 MPG) for the Thunder. The six-time All-Star, who is recovering from undergoing procedures on his shoulders at season's end, finished third in MVP voting in 2019.
He'll team up with Leonard to lead a roster that also features Lou Williams, Patrick Beverley, Montrezl Harrell, Landry Shamet, Rodney McGruder, Maurice Harkless, Jerome Robinson, and potentially RFA Ivica Zubac.
It'll be a homecoming for George, a Southern California native who grew up as a Clippers fan, as Fred Katz of The Athletic notes (via Twitter). George had a 15% trade bonus on his contract, which runs through 2020/21 with a 2021/22 player option, but because trade bonuses can't push a player's salary beyond his maximum, it'll be voided, tweets ESPN's Bobby Marks.
The Clippers will officially acquire George after signing Leonard using their cap room, since the club will be matching salaries as an over-the-cap team in the trade, Marks adds (via Twitter).
Photos courtesy of USA Today Sports Images.