JULY 12: Porzingis' new deal with the Mavericks is now official, the team announced today in a press release.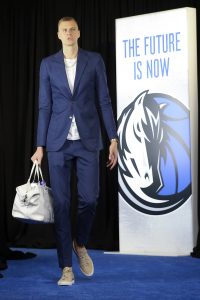 JUNE 30: The Mavericks and Porzingis quickly reached agreement on a five-year, maximum-salary contract when free agency opened, tweets Marc Stein of The New York Times. According to Tim MacMahon of ESPN.com (Twitter link), the deal is fully guaranteed, and the Mavs didn't push for any injury protection or incentives.
Porzingis' new deal will be worth $158,253,000.
JUNE 25: The Mavericks will meet with Kristaps Porzingis when free agency opens on June 30, according to Shams Charania of The Athletic, who reports (via Twitter) that the team intends to offer a full maximum-salary contract to its top restricted free agent.
Based on current cap projections, a five-year max deal for Porzingis would work out to just over $158MM.
The Mavericks were always expected to be aggressive with Porzingis in free agency, despite the fact that he missed the entire 2018/19 season due to an ACL tear. Dallas surrendered a handful of assets – including multiple first-round picks – and took on a pair of multiyear contracts in order to acquire Porzingis from the Knicks prior to this year's trade deadline.
The club's intent was to build around KP and Luka Doncic, and it looks like that plan remains very much on track. According to Chris Mannix of SI.com (via Twitter), Porzingis has forged a strong connection with Doncic since arriving in Dallas and has enjoyed his experience with team owner Mark Cuban.
While Porzingis hasn't played since 2017/18, he looked excellent during that season, averaging 22.7 PPG, 6.6 RPG, and 2.4 BPG with a .439/.395/.793 shooting line in 48 games for the Knicks, earning his first All-Star nod. He's expected to be fully healthy for the 2019/20 season.
The fact that the Mavericks are prepared to make a substantial long-term investment in Porzingis suggests that the team may not believe the rape accusation he's facing is fully credible. After dealing with allegations of sexual misconduct in the workplace last year, the franchise figured to be extra cautious as it navigated the Porzingis case.
Although Porzingis' starting salary on a max deal projects to be worth more than $27MM, the Mavs can retain some extra cap flexibility by not officially completing the deal right away. Until it's finalized, KP's cap hold will be just $17MM, creating an extra $10MM in cap room for the club, which currently projects to have close to $30MM in space. Once that space is used, Dallas can go over the cap to re-sign Porzingis.
The Mavs have also officially tendered Porzingis his qualifying offer, ensuring that he'll be a restricted free agent, per RealGM's transactions log.
Photo courtesy of USA Today Sports Images.