JULY 15, 517pm: Redick's contract signing is official, according to a team press release.
JUNE 30, 5:03pm: The Pelicans have reached an agreement with veteran sharpshooter J.J. Redick, according to ESPN's Adrian Wojnarowski, who reports (via Twitter) that Redick will sign a two-year, $26.5MM deal with the club.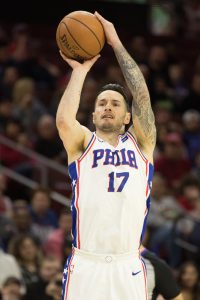 It's a savvy addition for a Pelicans club that looks more intriguing by the day. While the team has added a boatload of talent so far this offseason – including Zion Williamson, Jaxson Hayes, Lonzo Ball, and Brandon Ingram – the roster was still lacking in floor-spacers. Redick will provide that spacing in spades.
Redick, who is entering his age-35 season, is a career 41.3% shooter from beyond the three-point line. Last season in Philadelphia, he averaged a career-best 18.1 PPG and knocked down a career-high 3.2 threes per game at a 39.7% rate.
While the Sixers will lose Redick, they've recovered nicely tonight, agreeing to terms with Al Horford and setting up a sign-and-trade deal involving Jimmy Butler that will send Josh Richardson to Philadelphia.
Meanwhile, the Pelicans still have cap room after committing to Redick, but appear set to use most of the rest of it to acquire Derrick Favors from Utah.
Photo courtesy of USA Today Sports Images.