JULY 10: The Sixers have made it official, announcing the signing of Horford today in a press release.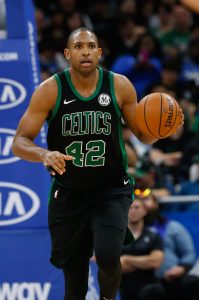 "We're excited to welcome one of the NBA's best frontcourt players in Al Horford to Philadelphia," GM Elton Brand said in a statement. "He has built his reputation around hard work and a tradition of winning, which are the same qualities that have formed the foundation of the 76ers. Al's playmaking, elite defensive talents and veteran leadership confirm why he is a crucial addition to our roster. We have gained a championship-level teammate that will not only complement our current makeup, but will help grow our young core as we strive for the highest level of success."
JUNE 30: The Sixers have revealed themselves as Al Horford's mystery suitor, having reached an agreement with the free agent big man on a four-year, $109MM deal, agent Jason Glushon tells ESPN's Adrian Wojnarowski (Twitter link).
According to Wojnarowski (via Twitter), Horford's four-year pact will actually include $97MM in guaranteed money, with $12MM in bonuses linked to potential championships.
[UPDATE: New details on structure of Horford's contract]
The Sixers' deal with Horford is the latest big move in a day full of them for the team. J.J. Redick is headed to New Orleans, and Jimmy Butler is Miami-bound, but the 76ers agreed to re-sign Tobias Harris and will add Josh Richardson in the process of signing-and-trading Butler to the Heat. The club now projects to have a potential starting five made up of Harris, Richardson, Horford, Ben Simmons, and Joel Embiid.
Horford, 33, averaged 13.6 PPG, 6.7 RPG, and 4.2 APG on .535/.360/.821 shooting in 68 games (29.0 MPG) last season for the Celtics. However, his value extends beyond his numbers — he's a strong defender who is capable of protecting the rim or switching onto perimeter players, and he keeps opposing defenses on their toes with his ability to pick and pop.
It will be interesting to see how Horford fits alongside Embiid in the Sixers' frontcourt. While Horford is more of a center, he showed in Boston that he could play next to another center, as the C's often used a Horford/Aron Baynes combination up front.
Horford had a player option for 2019/20 with the Celtics worth approximately $30MM, but decided to turn down that option in search of a longer-term deal. Rumors quickly began circulating about a four-year, $100MM+ deal for Horford, though it wasn't clear which team was prepared to offer that sort of deal. The Mavericks, Kings, Pelicans, and Clippers were named as possible Horford suitors, but it was the Sixers that landed him.
According to Keith Smith of RealGM (via Twitter), Wojnarowski said during an appearance on ESPN that the Celtics – who managed to retain Horford's Bird rights by agreeing to acquire Kemba Walker via sign-and-trade, were willing to go up to four years, but the gap in guaranteed money compared to Philadelphia's offer was too significant.
Photo courtesy of USA Today Sports Images.