JULY 8, 9:33pm: The Suns have officially signed Rubio, according to a team press release.
JUNE 30, 5:37pm: In a shocking development, the Suns have stolen presumed Pacers target Ricky Rubio. Phoenix will sign him to a three-year, $51MM deal, according to Shams Charania of The Athletic tweets.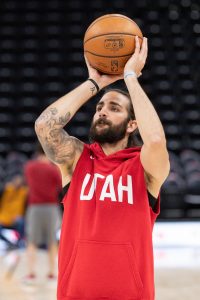 Multiple reports this week indicated that Rubio was expected to join the Pacers once free agency began, with one story calling it a "virtual done deal." Indiana saw point guard Darren Collison retire and it left them extremely thin at the position. However, the team was able to add Malcolm Brogdon via sign-and-trade.
As for the Suns, they haven't had stability at the point guard spot since they traded Eric Bledsoe away. Rubio and newcomer Dario Saric, who came to the team in a draft night trade, will add veteran presence to a team looking to make the postseason.
A former fifth overall pick, Rubio averaged 12.7 PPG, 6.1 APG, and 3.6 RPG in 68 games (27.9 MPG) for the Jazz last season. He's not a great shooter, but Phoenix will lean on him for his play-making, passing, and defense.
The Suns will need to make an additional roster move to fit Rubio in under the cap, if they plan to keep Kelly Oubre's cap hold on their books, notes ESPN's Bobby Marks.
Photo courtesy of USA Today Sports Images.