JULY 16: The trade is official, according to a Thunder press release.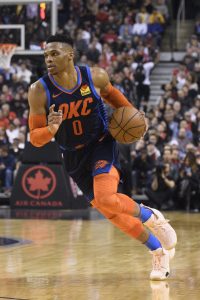 "We recently had conversations with Russell about the team, his career, and how he sees the future," GM Sam Presti said. "Through those conversations we came to the understanding that looking at some alternative situations would be something that made sense for him. As a result, and due to his history with the Thunder, we worked together to accommodate this," said Presti. "Our ability to have these types of conversations and work so closely with Russell and his agent Thad Foucher is only possible because of the depth of the relationship that has been built over the last 11 years.
"Russell Westbrook is the most important player in the brief history of the Oklahoma City Thunder. He has left an indelible mark on this team, city and state. None of us could have anticipated the player he has become, and we are all deeply proud of what he has contributed to the success of the franchise and to our community. Russell and his wife Nina, their three children, his brother and his parents will always remain part of the Thunder family. We wish them nothing but happiness and success in the future."
JULY 11: The Rockets have acquired Russell Westbrook. According to Adrian Wojnarowski of ESPN.com (Twitter link), Houston will send Chris Paul, two first-round picks and two pick swaps to Oklahoma City in exchange for the eight-time All-Star.
The Thunder will receive the Rockets' first-round picks in 2024 and 2026, according to Wojnarowski. Shams Charania of the Athletic tweets that those selections are each top-four protected.
Oklahoma City will also have the right to swap first-round picks with the Rockets during the 2021 and 2025 drafts, though those have protections as well. The 2021 swap is top-four protected, while the 2025 swap is top-20 protected, per Charania.
GM Sam Presti worked with Westbrook and his agent to send the point guard to Houston, which was his preferred destination, Wojnarowski tweets. Westbrook will reunite with James Harden, whom he previously played with on the Thunder (before the team traded Harden to the Rockets). Jonathan Feigen of the Houston Chronicle (Twitter link) hears that the push for a reunion came from both sides.
The Paul George trade request opened the door for another superstar to move this summer. The Thunder began an unexpected retooling process in the wake of trading George, leaving Westbrook in a curious position.
Rumors of the Paul-Harden relationship souring popped up this summer, with a report from Vincent Goodwill of Yahoo Sports describing the relationship as "unsalvageable" and suggesting that CP3 wanted a trade. Both Paul and GM Daryl Morey shot down that report, but there was still widespread speculation that the team would try to move Paul.
Ramona Shelburne of ESPN.com tweets that Presti has spoken to Paul's agent, Leon Rose. Rose, who also represents Carmelo Anthony, worked with the team last summer on an exit strategy for 'Melo.
The Thunder's plan as of now is to keep Paul alongside Danilo Gallinari and remain competitive, Sam Amick of The Athletic hears (Twitter link). Still, Amick cautions that at this stage in his career, the point guard isn't going to be patient.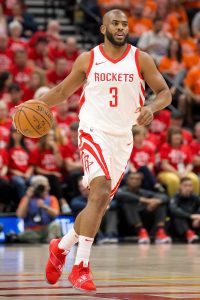 Paul, whose contract runs through 2021/22, will make $38.5MM in the 2019/20 season, with roughly $86MM due to him over the following two seasons. Westbrook will also make $38.5MM this upcoming season and he'll take home $132.6MM over the ensuing three seasons. The two deals are essentially identical, with Westbrook's running for an extra season. Both of the point guards also have a player option on the end of their contracts, though it's unlikely that either will decide to hit the open market a year early.
Westbrook has a 15% trade bonus in his contract, but because he's already earning a maximum salary, the bonus will be voided, ESPN's Bobby Marks adds on Twitter.
Paul, 34, slowed signs of slowing down during the 2018/19 season. Injuries limited him to just 58 games, and his 15.6 PPG and .419 FG% were both the lowest marks of his 14-year career. However, he still chipped in 8.2 APG and 2.0 SPG while helping to lead the Rockets to the Western Semifinals.
As for Westbrook, his scoring average (22.9 PPG) was his lowest in five years and he went through some major shooting slumps en route to a .428/.290/.656 line. The 30-year-old still managed to average a triple-double for the third consecutive year though, contributing 11.1 RPG and a league-leading 10.7 APG to go along with 1.9 SPG.
Photos courtesy of USA Today Sports Images.