JULY 11: The Warriors have officially re-signed Looney, the team confirmed today in a press release.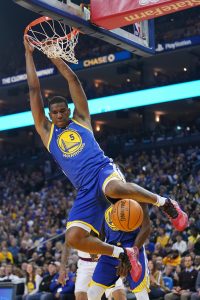 JULY 2: Looney's new deal features a third-year player option, tweets Mark Medina of The Mercury News.
JULY 1: The Warriors will bring back free agent big man Kevon Looney, according to Shams Charania of The Athletic, who reports (via Twitter) that the two sides have agreed to a three-year, $15MM deal. As Charania details (via Twitter), the Warriors met with Looney over the weekend and reached an agreement with him and agent Todd Ramasar on Monday.
Looney, the 30th overall pick in the 2015 draft, hasn't put up huge numbers during his four seasons in Golden State, but he has becoming an increasingly important part of the team's rotation in recent years.
In 2018/19, the 23-year-old averaged 6.3 PPG and 5.2 RPG on 62.5% shooting in 80 games (18.5 MPG) for the Warriors. While he generally came off the bench, he emerged as the team's most reliable center in the postseason due to his ability to switch on defense and hold his own against perimeter players.
The Warriors held Looney's Bird rights this offseason, which gave them the ability to offer him any salary up to the max. However, by acquiring D'Angelo Russell in a sign-and-trade deal with the Nets, Golden State will face a hard cap of $138.9MM, the amount of the tax apron.
It wasn't clear whether the Warriors would find a way to squeeze Looney – arguably their most important free agent beyond Klay Thompson and Kevin Durant – below that hard cap, since he appeared likely to receive plenty of interest on the open market. However, the Dubs got a good price to bring him back, and will presumably fill most of the rest of their roster with minimum-salary contracts to sneak below that $138.9MM threshold.
Bobby Marks of ESPN.com goes into detail on just how close the Warriors project to come to that hard cap.
Photo courtesy of USA Today Sports Images.