8:55pm: The deal is official, according to a tweet from the Warriors.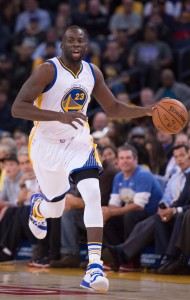 10:14am: The Warriors and Draymond Green have agreed to a four-year, maximum extension worth nearly $100MM, tweets ESPN's Adrian Wojnarowski. Green, who was set to hit free agency next summer, will remain with Golden State.
Green's new deal, which starts during the 2020/21 season, brings his total contract to $118M over five years. The three-time All-Star will make $22.2MM, $24MM, $25.8MM and $27.6MM over the course of the extension, Wojnarowski notes (Twitter link).
It's a bit surprising for Green to agree to these terms since he would have been eligible for a five-year, $204MM deal next summer from the Warriors — or four years and $151MM from other teams. He could have qualified for an even more lucrative deal with Golden State if he had earned All-NBA honors or won the Defensive Player of the Year award in 2020.
However, the defensive specialist elected for the long-term security, especially after seeing former and current teammates Thompson and Kevin Durant sustain career-altering injuries just before hitting free agency. Green's new deal starts at 120% of this year's $18,539,130 salary.
After signing Klay Thompson to a five-year maximum deal earlier this summer and Stephen Curry also on a long-term pact, the Warriors have kept the core of their recent championship teams intact.
Green, 29, had a down year by his standards in 2018/19, averaging 7.4 PPG, 7.3 RPG and 6.9 APG for the Warriors in 66 games. Green's 7.4 PPG was his lowest total since his sophomore campaign in 2013/14.
However, the former Defensive Player of the Year remained an effective player for Golden State, helping the organization reach its fifth NBA Finals in as many seasons. He continued his trademark strong postseason play, averaging 13.3 PPG, 10.1 RPG and 8.5 APG in 22 contests.
When Thompson returns from a torn ACL, the Warriors' core figures to contend for a fourth championship in six seasons. Golden State offset the loss of Durant by acquiring D'Angelo Russell from the Nets in a sign-and-trade.
With Green off the board for 2020, an already weak free agency class has taken a hit. Barring extensions, Anthony Davis and DeMar DeRozan figure to headline next summer's free agency class.
Photo courtesy of USA Today Sports Images.