JULY 10: Thompson's five-year, maximum-salary contract is now official, the Warriors announced in a press release.
JULY 1: Wojnarowski provides another update on Thompson's new contract, tweeting that it includes a 15% trade bonus. Trade bonuses can't push a player's salary beyond his max, so Klay wouldn't receive it in the unlikely event he's traded this season. That could change down the road.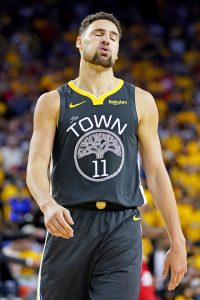 JUNE 30: The Warriors and Thompson have a "done deal" in place, three sources confirm to Marc Stein of The New York Times (Twitter link). A source tells Anthony Slater of The Athletic (Twitter link) that it's a standard five-year deal with no options and no no-trade clause.
JUNE 29: The Warriors and Thompson plan to reach an agreement on a five-year max deal shortly after free agency begins on Sunday, tweets Shams Charania of The Athletic.
JUNE 28: The Warriors are planning to offer All-Star guard Klay Thompson a five-year, maximum-salary contract when free agency opens on Sunday, reports ESPN's Adrian Wojnarowski. According to Wojnarowski, that offer will likely accelerate Thompson's free agency, as the two sides aren't expected to take long to reach an agreement.
Reports this week have indicated that Thompson had considered meeting with the Lakers and Clippers if the Warriors didn't put that five-year offer (worth a projected $189.66MM) on the table right away. However, there has been no indication – even after Thompson tore his ACL – that Golden State was wavering on making that commitment.
According to Wojnarowski, several teams that had Thompson on their wish lists have given up hope on that possibility in recent days, becoming convinced that the sharpshooter will remain in the Bay Area.
An ESPN report this morning suggested that Thompson's camp might have been using those Los Angeles teams to create leverage to ask the Warriors for a fifth-year player option or a no-trade clause. Stephen Curry didn't get either of those perks in his own five-year, maximum-salary deal, so Golden State may be reluctant to give them to Thompson. At this point, it's not clear whether or not Klay's camp intends to push for either one.
If the Warriors can lock up Thompson, they'll be halfway to keeping their core intact for the 2019/20 season. The team also reportedly plans to offer a five-year maximum-salary (worth a projected $221MM+) to Kevin Durant.
[UPDATE: Durant has committed to the Nets]
Both Thompson and Durant – who is recovering from a ruptured Achilles – are expected to miss most or all of next season, but would be ready to go for 2020/21.
Photo courtesy of USA Today Sports Images.