If you missed any of this past week's biggest headlines from around the NBA, we've got you covered with our Week in Review. Here are some of the most noteworthy stories from the last seven days:
The NBA's Board of Governors unanimously approved new anti-tampering rules and guidelines. The league is looking to crack down on free agent tampering and his instituted harsher penalties for teams that violate those policies, including potential fines worth up to $10MM.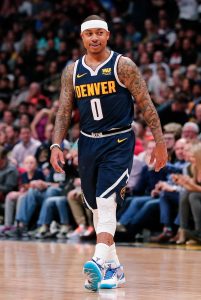 New Nets owner Joe Tsai was unanimously approved by the NBA's Board of Governors. Tsai has now officially assumed control of the franchise from Mikhail Prokhorov. He has also named a new CEO, installing former Turner executive David Levy in that position.
Isaiah Thomas will miss approximately six to eight weeks due to a thumb injury. The Wizards announced this week that their newly-signed point guard underwent surgery to repair a ruptured ligament. Thomas isn't expected to be ready for the start of the regular season.
The Magic exercised their 2020/21 team option on Markelle Fultz. The former No. 1 overall pick has yet to play a game for Orlando, but the team was willing to guarantee his $12.3MM salary for '20/21. The Magic also picked up rookie scale options on Jonathan Isaac and Mohamed Bamba.
Stephen Curry and Klay Thompson expressed a desire to play in the 2020 Olympics. After Team USA's disappointing World Cup showing, a handful of stars are showing interest in playing in Tokyo next year. Damian Lillard also said he'd like to participate.
Here are 10 more noteworthy headlines from the past week:
Photo courtesy of USA Today Sports Images.