The Lakers have applied for a disabled player exception to replace DeMarcus Cousins, league sources tell Shams Charania of The Athletic (Twitter link). If it's approved by the NBA, the exception would be worth $1.75MM.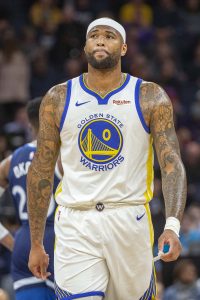 As we outline in our glossary entry on the disabled player exception, a team can apply for a DPE to replace a seriously injured player. In order for the exception to be granted, an NBA-designated physician must determine that the player is "substantially more likely than not" to be sidelined through at least June 15 of that league year.
If granted, the disabled player exception allows a club to sign a replacement player for 50% of the injured player's salary, or for the amount of the non-taxpayer's mid-level exception, whichever is lesser. In the case of Cousins, the exception would be worth half of his $3.5MM salary for 2019/20.
The DPE, which doesn't give a team an extra roster spot, can also be used to acquire a player on an expiring contract via trade or waivers if his salary fits into the exception.
The Lakers haven't offered a concrete timeline on Cousins' recovery since he tore his ACL in August. Applying for a DPE suggests the team expects him to miss the entire season, but even if the request is approved, the veteran center wouldn't be forced to sit out all of 2019/20 — he could still "beat the odds" and return before the end of the season.
Still, given his recent history of major leg injuries, Cousins figures to play it safe with his ACL rehab, so I'd be surprised if we see him on the court again before opening night in 2020. Plus, if the Lakers believe he'll miss the entire season, they could waive him to free up a roster spot for another player. Cousins would still receive his full $3.5MM salary in that scenario.
A $1.75MM exception won't be very valuable for the Lakers at this point, but it could come in handy later in the league year, especially since they're capped out and have already used their full room exception.
Teams have until March 10 to use a disabled player exception, and the DPE would gain value as the season progresses and the value of a prorated minimum-salary contract declines. Being able to offer a $1.75MM salary on the buyout market in February could give L.A. an advantage over teams that can only offer the minimum.
Photo courtesy of USA Today Sports Images.