SEPTEMBER 6: The signing is official, according to a team press release.
SEPTEMBER 4: The Nuggets have signed rookie center Bol Bol to his first professional contract, according to Shams Charania of The Athletic, who reports (via Twitter) that it's a two-way deal.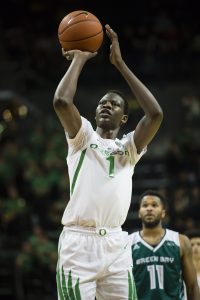 [RELATED: Hoops Rumors Glossary: Two-Way Contracts]
Once viewed as a probable lottery pick, Bol saw his stock dip leading up to the 2019 draft due to long-term health concerns related to his slender 7'2″ frame. The former Oregon standout slipped all the way to No. 44, where the Nuggets landed him, acquiring his rights in a draft-night trade with the Heat.
No player drafted as high as 44th overall has signed a two-way contract to start his career since the NBA introduced two-way deals in 2017. However, the Nuggets and Bol were uniquely suited for such an arrangement for a handful of reasons.
For one, Bol is returning from a stress fracture in his foot that sidelined him for most of his first and only college season. The Nuggets will want to take things slow, as they did last year with Michael Porter Jr., making sure the 19-year-old is 100% healthy before throwing him into the NBA deep end. Bol is also still very raw, so it makes sense that the club would want him to begin his career in the G League rather than debuting in the NBA immediately.
Meanwhile, as cap expert Albert Nahmad recently outlined, Denver is less than $1MM away from the tax threshold, and could move even closer to tax territory if certain veterans earn unlikely contract incentives this season. Adding Bol on a standard rookie contract worth $898K would have jeopardized the Nuggets' ability to stay out of the tax in 2019/20.
Bol could have forced the issue to some extent, since the Nuggets were required to offer him a one-year, non-guaranteed contract this week in order to retain his NBA rights. However, it appears he and his camp have bought into a plan that will start him out on a modest two-way salary before he's eventually promoted to the NBA squad.
Developing Bol will be somewhat complicated by the fact that the Nuggets are one of two NBA teams without a G League affiliate of their own. Still, that didn't stop Monte Morris and Torrey Craig from turning two-way deals into standard contracts (and regular roles in Denver's NBA rotation). While they were on two-way contracts with the Nuggets, Morris played for the Rockets' affiliate in the NBAGL and Craig spent time with the Heat's affiliate.
With Bol locked up, the Nuggets' roster looks just about regular-season-ready. The team has 14 players on guaranteed salaries, with Bol and Tyler Cook on two-way contracts. PJ Dozier has also been invited to Denver's training camp, though it's hard to envision a place on the roster for him unless he replaces Cook as a two-way player.
Photo courtesy of USA Today Sports Images.