SEPTEMBER 19: The Pistons have officially signed Johnson, the team announced today in a press release.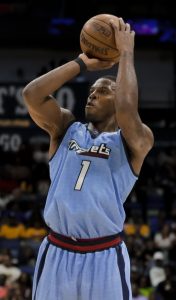 SEPTEMBER 12: Joe Johnson and the Pistons have reached an agreement a contract, tweets Chris Haynes of Yahoo Sports. League sources tell Shams Charania of The Athletic (Twitter link) that it's a partially guaranteed one-year deal.
Jeff Goodman of Stadium (Twitter link) first reported that the two sides were on the verge of an agreement. A report earlier this week indicated that Detroit was the frontrunner for the free agent forward.
Johnson, 38, has appeared in nearly 1,400 career NBA games, counting the postseason, but didn't play in the league in 2018/19 after finishing the '17/18 campaign in Houston. The 17-year NBA veteran showed he still had something left in the tank during his run in Ice Cube's BIG3 league this summer, earning MVP honors and leading his 3-on-3 team to a championship.
Following his stint in the BIG3, Johnson drew interest from a handful of NBA teams, reportedly lining up workouts with the Sixers, Bucks, and Nets in addition to the Pistons. However, Detroit emerged as the apparent favorite in part due to Johnson's connection to Pistons vice chairman Arn Tellem, a former agent who used to represent Iso Joe.
Assuming Johnson finalizes a deal with the Pistons, he may have to compete with Christian Wood for the team's final regular season roster spot. Michael Beasley was also expected to vie for that spot, but Goodman suggests the former No. 2 overall pick will be released to open up room on the 20-man offseason roster for Johnson.
Technically, it doesn't appear that Beasley actually signed with the Pistons after agreeing to terms on a non-guaranteed contract with the team last month. Now that he's the odd man out, his deal will likely just never be completed.
Photo courtesy of USA Today Sports Images.