Buddy Hield is eligable for a rookie-scale contract extension and while the Kings would love to lock him up long-term, it's unclear what they are willing to offer the shooting guard.
Jason Jones of The Athletic hears that Hield is willing to accept less than the max in order to get a deal done. However, Hield doesn't want an offer that would be considered an "insult."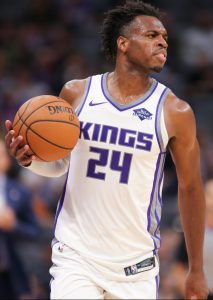 Ben Simmons and Jamal Murray are among the few players from the 2016 draft class to receive rookie-scale extensions this offseason. Both players signed max deals and it's arguable that Simmons and Murray are the only players from the draft class who have shown as much promise as Hield.
[RELATED: Early Maximum Salary Projections For 2020/21]
"I think everyone knows we love Buddy," Kings coach Luke Walton said. "That's him and the front office dealing with that."
October 21 is the deadline for teams to come to terms on rookie-scale extensions. The Kings have several young players who will be up for new deals soon, as our own Luke Adams recently explained. De'Aaron Fox will be eligible for a rookie-scale extension next summer and Bogdan Bogdanovic will be a restricted free agent at that time.
 "As a player, you want to have that trust that the franchise has your back and we're just waiting for them to make a move and come to an agreement," Hield said earlier this week. "They're talking, but nothing is moving yet. Nothing has moved. I'm ready to make things happen, man. I want to make Sacramento my home. I'm ready to get this [explicit] done. I want to be here and if it doesn't happen, then things can go the other way."
Photo courtesy of USA Today Sports Images