Pascal Siakam's new contract extension with the Raptors, which will go into effect in 2020/21, is being called a maximum-salary contract, but the actual value of his salaries on that deal will vary depending on two key factors.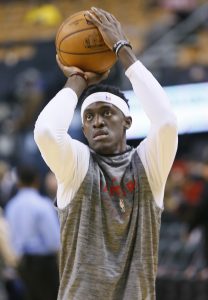 The first factor is where the NBA's salary cap lands for the 2020/21 season, since a player's maximum starting salary is based on a percentage of the cap. The standard maximum salary for a player like Siakam with fewer than seven years of NBA experience is 25% of the cap.
The league's most recent salary cap projection estimated a $116MM cap for '20/21, but that figure is subject to change, particularly if the NBA/China controversy significantly affects the league's bottom line. Assuming the cap does come in at $116MM, 25% of that figure would work out to $29MM. Siakam would receive 8% raises annually, for a total of $129.92MM over four seasons.
However, according to Michael Grange of Sportsnet.ca (Twitter link), Siakam's new deal with the Raptors also includes "Rose Rule" language. As we outline in our glossary entry on the subject, the Rose Rule allows a player with fewer than seven years of NBA experience to qualify for a higher maximum salary (up to 30% of the cap) if he meets certain criteria.
The rule is named for Derrick Rose, who won the MVP award during his third season in the league. If Siakam matches that feat in his fourth NBA season in 2019/20, his starting salary would be worth 30% of the cap, per Grange.
Making an All-NBA team also allows a player to qualify for that higher max, and teams and players are permitted to negotiate various starting salaries between 25-30% depending on which specific All-NBA team a player makes.
In Siakam's case, his starting salary will be worth 28% of the cap if he makes the All-NBA Second Team or 29% if he makes the First Team, according to Grange. It appears that a Third Team nod wouldn't affect Siakam's starting salary.
The upshot? Here are the four different forms that Siakam's four-year extension could take, based on a $116MM cap, depending on whether he receives any major honors or awards during the 2019/20 season:
| Year | Standard (25%) | All-NBA 2nd Team (28%) | All-NBA 1st Team (29%) | MVP (30%) |
| --- | --- | --- | --- | --- |
| '20/21 | $29,000,000 | $32,480,000 | $33,640,000 | $34,800,000 |
| '21/22 | $31,320,000 | $35,078,400 | $36,331,200 | $37,584,000 |
| '22/23 | $33,640,000 | $37,676,800 | $39,022,400 | $40,368,000 |
| '23/24 | $35,960,000 | $40,275,200 | $41,713,600 | $43,152,000 |
| Total | $129,920,000 | $145,510,400 | $150,707,200 | $155,904,000 |
Photo courtesy of USA Today Sports Images.