The Kings are declining two of their four rookie scale options for the 2020/21 season, a league source tells James Ham of NBC Sports California (Twitter link). According to Ham, Sacramento won't be picking up the fourth-year options for Harry Giles ($3,976,510) or Caleb Swanigan ($3,665,787).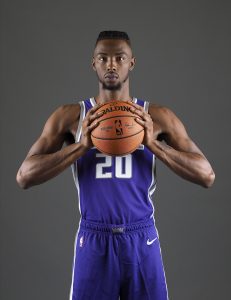 As expected, Sacramento has exercised its fourth-year option on De'Aaron Fox ($8,099,627) and its third-year option on Marvin Bagley III ($8,963,640). Those were procedural moves and were never in doubt. However, the decisions on Giles and Swanigan are a little more interesting.
Giles, the 20th overall pick in the 2017 draft, has been plagued by knee issues since entering the league. Injuries cost him his entire rookie year and limited him to 58 games (14.1 MPG) in 2018/19. He has also yet to play this season as he battles knee pain.
Given his upside, I still though Sacramento would likely exercise Giles' 2020/21 option. However, it appears the club decided the risk outweighed the reward when it came to guaranteeing nearly $4MM for the big man.
The Kings' option decision on Swanigan is less surprising. The former Purdue power forward has averaged just 2.1 PPG and 2.4 RPG in 51 career regular season contests with Portland and Sacramento, having never developed into a reliable rotation player.
Giles and Swanigan, two of just four players around the NBA who have had their rookie scale options turned down, will both become unrestricted free agents in 2020 as a result of today's decisions. At that time, Sacramento won't be able to offer them a starting salary worth more than the value of their declined options.
Meanwhile, Fox will become extension-eligible next July, while Bagley has one more option on his rookie scale contract for the 2021/22 season.
Photo courtesy of USA Today Sports Images.