5:13pm: The Pacers have officially signed Sabonis to his new extension, the team confirmed in a press release.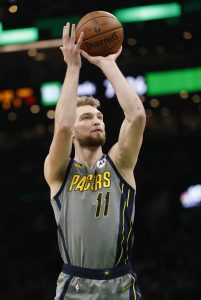 "I'm very excited to remain with the Pacers, this is where I wanted to be," Sabonis said in a statement. "I appreciate the organization showing their confidence in me; and I'm ready to be part of what's going to be a great year for our team."
3:10pm: The parade of rookie scale extensions continues on deadline day, with Pacers big man Domantas Sabonis the latest player to agree to a new long-term deal, per Shams Charania of The Athletic (Twitter link).
According to Charania, Sabonis' new four-year extension with Indiana is worth $74.9MM (Twitter link). ESPN's Adrian Wojnarowski (Twitter links) has the value at $77MM in guaranteed money over four years, adding that the deal could be worth up to $85MM with incentives. Sabonis' new contract, which goes into effect in 2020/21, won't feature any team or player options, tweets Scott Agness of The Athletic.
It has been a wild few days for the Pacers and Sabonis, with a report on Friday night suggesting that the two sides were far apart in contract negotiations, prompting the team to explore the trade market in search of a possible deal. Indiana's asking price was said to be "too high," so it doesn't appear as the club ever came close to actually moving the 23-year-old.
Still, it didn't sound as if Sabonis and the Pacers were in a great place over the weekend. Asked about the situation on Saturday, the Lithuanian replied, "I know exactly how the Pacers feel about me now," an apparent reference to those trade rumors. Given today's news, that comment could have a very different meaning now, as the Pacers were willing to invest even more heavily in Sabonis than they did a year ago in Myles Turner, who received a four-year, $72MM deal.
Both Sabonis and Turner should be very movable on their new long-term contracts, so that's still a path the Pacers could eventually explore. For now though, the plan is to play the two big men alongside one another in the starting lineup. That approach had mixed results last season, but the Pacers are invested in committing more time and energy to making it work.
Sabonis, 23, only started five games last season after making 85 starts in his first two seasons, but he still enjoyed his best season as a pro, averaging 14.1 PPG, 9.3 RPG, and 2.9 APG in just 24.8 minutes per contest.
He and Turner, along with newly-acquired guard Malcolm Brogdon, will be tasked with helping the Pacers get off to a good start this season while their MVP – Victor Oladipo – remains on the shelf due to a quad injury.
Photo courtesy of USA Today Sports Images.