4:31pm: The Pistons have officially waived Johnson, per a press release from the team. A source tells Vince Ellis of The Detroit Free Press (Twitter link) that Iso Joe isn't giving up on his NBA comeback and plans to pursue other opportunities.
2:27pm: The Pistons are waiving veteran forward Joe Johnson, league sources tell ESPN's Adrian Wojnarowski (Twitter link). The move should pave the way for Detroit to finalize its regular season roster, with Christian Wood claiming the final spot on the 15-man squad.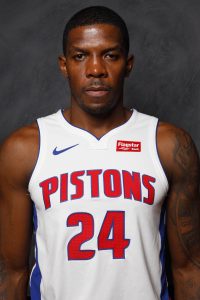 Johnson, who didn't play in the NBA during the 2018/19 season, turned heads with his performance in Ice Cube's 3-on-3 league earlier this year. The 17-year NBA veteran showed he still had something left in the tank during his BIG3 run, ranking atop the league in scoring, winning the MVP award, and leading his team to a championship.
That performance helped earn Johnson a partially guaranteed deal in Detroit. However, the team still had 14 players on guaranteed contracts and Wood – who had a non-guaranteed salary – made a strong case to be part of the regular season roster. The Pistons reportedly explored trade options to open another roster spot, with Langston Galloway and Khyri Thomas among the candidates to be moved, but ultimately decided to release Johnson.
An injury may have also been a factor in the Pistons' decision, as Chris Haynes of Yahoo Sports reports (via Twitter) that Johnson was experiencing swelling in his Achilles. According to Haynes, tests came back clean and Johnson was responding well to treatment. Still, for a 38-year-old who hasn't played in the NBA in over a year, any health issues should be approached with caution.
With Johnson headed to the waiver wire, the Pistons will be on the hook for his $220K partial guarantee, assuming he goes unclaimed. Detroit's team salary is now just $4K below the luxury tax line, tweets cap expert Albert Nahmad.
Photo courtesy of USA Today Sports Images.