9:00pm: Murray's new contract includes $6MM in incentives and could max out at $70MM, tweets Charania.
4:08pm: The Spurs have officially signed Murray to an extension, the team confirmed in a press release.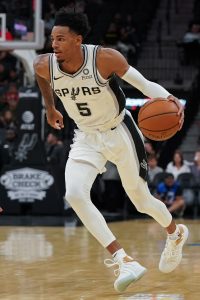 3:38pm: Despite not appearing in a regular season game since the 2017/18 season, Dejounte Murray has agreed to a new long-term extension with the Spurs. Agent Rich Paul tells Shams Charania of The Athletic (Twitter link) that Murray is signing a four-year contract worth a fully guaranteed $64MM. It'll go into effect for the 2020/21 season.
Murray, the 29th overall pick in the 2016 draft, averaged 8.1 PPG, 5.7 RPG, and 2.9 APG in 81 games (21.5 MPG) during the '17/18 season, his second with the Spurs. He appeared to be primed for a breakout season last fall, but a torn ACL sidelined him for the entire '18/19 campaign.
Once again healthy, Murray is looking to pick up where he left off before that injury. Although there are some questions about his jump shot – he converted just 18-of-57 three-pointers in his first two seasons – he's a force on the defensive end, having become the youngest player ever to be named to the NBA's All-Defense team in 2018. The Spurs view him as one of their cornerstone pieces for the years ahead.
Prior to Murray's extension, the Spurs had approximately $54MM in salary on their books for the 2020/21 season. While we don't yet know the structure of Murray's deal, it's safe to say it will push the team's commitments up near $70MM.
It's possible San Antonio will still have some cap flexibility next summer, but that team salary estimate doesn't include DeMar DeRozan's player option ($27.7MM) or $17MM of LaMarcus Aldridge's partially guaranteed salary, so if the Spurs intend to bring one or both of those players back, they likely won't be a real player in free agency.
Murray is the eighth player to reach a deal on a rookie scale extension this year and the 15th player in total to get an extension since July, as our tracker shows.
Photo courtesy of USA Today Sports Images.