Every week, Hoops Rumors takes a closer look at players who will be free agents or could become free agents next offseason. We examine if their stock is rising or falling due to performance and other factors. This week, we take a look at players from the Southwest Division: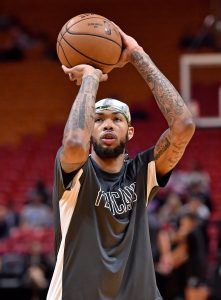 Brandon Ingram, Pelicans, 22, SF (Up) – Signed to a four-year, $23.8MM deal in 2016
More appropriately, Ingram's stock is way, way up. Ingram's last season with the Lakers was cut short by a blood clot issue. He averaged 18.3 PPG but there was still skepticism just how good Ingram was. He's answered that emphatically in his first 13 games with the Pelicans, posting All-Star level numbers (26.1 PPG, 7.2 RPG, 4.2 APG, 45.9 percent on 3s). The Pelicans will make him a restricted free agent by extending a $9.48MM qualifying offer. Will Ingram re-sign with New Orleans, sign a big offer sheet, or sign the QO and test unrestricted free agency the following summer? For sure, he'll get paid.
Courtney Lee, Mavericks, 34, SG (Down) – Signed to a four-year, $48MM deal in 2016
Lee's value to Dallas is mainly his expiring contract, which could prove useful as the Mavs look to acquire another piece to their vastly improved squad. Lee's playing time has been mainly limited to garbage-time minutes. After two solid seasons with the Knicks, Lee's career has declined the past two seasons. His 3-point prowess (38.7 percent for his career) might earn him a short-term deal next summer but he won't be making anywhere near $12MM next season.
Gerald Green, Rockets, 33, SG (Down) – Signed to a one-year, $2.56MM deal in 2019
Have we seen the last of Green in the NBA? That's a strong possibility, considering his age and long-term rehab from a foot injury. He underwent surgery in late October and is expected to miss the regular season and likely the postseason as well. Green, a 12-year NBA veteran, has made prior stops with Boston, Minnesota, Houston, Dallas, New Jersey, Indiana, Phoenix and Miami during his professional career. He was a major contributor off the Rockets' bench last season, averaging 9.2 PPG and 2.5 PPG in 73 contests. Another veteran's minimum deal is his best hope.
Marco Belinelli, Spurs, 33, SG (Down) – Signed to a two-year, $12MM deal in 2018
Belinelli's perimeter shooting has made him one of the league's most reliable second-unit players for years. The shooting touch has abandoned him, one of the many reasons the Spurs have struggled this season. Belinelli is shooting just 29 percent from the field while averaging 5.2 PPG. He has averaged in double figures off the bench for the past four seasons. Gregg Popovich has continued to give him steady minutes, so Bellinelli's production should return to the norm. But if his playing time is reduced, he may have to settle for the veteran's minimum next summer.
Dillon Brooks, Grizzlies, 23, SF (Up) – Signed to a three-year, $3.8MM deal in 2017
Brooks was limited to 18 games last season, mainly due to a toe injury that required surgery in January. He has come back at full strength and started every game this season for the Grizzlies. He's the team's third-leading scorer at 13.3 PPG while making 38.7 percent of his 3-pointers. It's a foregone conclusion the Grizzlies will extend a $2MM qualifying offer to make him a restricted free agent this summer. The 2017 second-round pick will get a substantial pay raise regardless of how his free agent journey unfolds.
Photo courtesy of USA Today Sports Images.