The Designated Veteran Extension, as we explain our glossary entry on the subject, is a relatively new addition to the NBA's Collective Bargaining Agreement. It allows players with 7-9 years of experience, who would normally qualify for a maximum starting salary of 30% of the cap, to qualify for a "super-max" contract that starts at 35% of the cap, a level normally reserved players with 10+ years of experience.
A player who has seven or eight years of NBA service with one or two years left on his contract becomes eligible for a Designated Veteran Extension if he meets the required performance criteria and hasn't been traded since his first four years in the league. A Designated Veteran contract can also be signed by a player who is technically a free agent if he has eight or nine years of service and meets the required criteria.
The performance criteria is as follows (only one of the following must be true):
The player was named to an All-NBA team and/or was named the NBA Defensive Player of the Year in the most recent season, or in two of the last three seasons.
The player was named the NBA MVP in any of the three most recent seasons.
With those criteria in mind, it's worth keeping an eye on the players who could qualify for a super-max veteran contract with their play this season. Let's dive in and examine a few of those guys…
Players who already qualify for a super-max contract: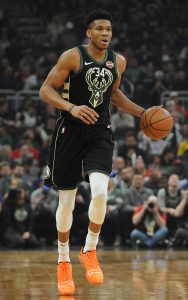 Antetokounmpo met the performance criteria for the super-max when he won last season's MVP award. Gobert did so by winning the Defensive Player of the Year award in 2018 and then being named to the All-NBA team in 2019 — his second consecutive DPOY award in '19 merely put an emphatic stamp on his eligibility.
However, neither Antetokounmpo nor Gobert can actually sign a Designated Veteran Extension yet, since they must have seven years of NBA experience under their belts.
Each player is in his seventh season now, but years of experience aren't officially added until the very end of the league year. In other words, the Bucks and Jazz stars will have to wait until next July to officially sign super-max extensions.
We know the Bucks will put that offer on the table for Giannis, but we're not sure yet whether he'll sign it. It also remains to be seen if the Jazz will make the same offer to Gobert. Based on the NBA's latest cap projection for 2021/22 ($125MM), each player would be eligible for $253.75MM over five years.
Players who could qualify for a super-max contract by meeting the criteria in 2019/20:
Technically, any player who earns an All-NBA spot in 2019/20 and meets the contract criteria can qualify for a super-max, but the two players listed above are probably the only legitimately viable candidates. Thunder center Steven Adams, for instance, would become eligible for a super-max extension by earning an All-NBA spot, but that's probably not happening.
Even Drummond might be a long shot, but if he can maintain the numbers he has posted in his first nine games (21.9 PPG, 18.6 RPG, 2.2 BPG), he'll be in the conversation. So far, he's outplaying last year's All-NBA First Team center Nikola Jokic, who is off to a slow start.
Embiid, last season's All-NBA Second Team center, looks like a safer All-NBA bet as long he stays healthy. He earned his spot in 2018/19 despite playing just 64 games, so if he can match or exceed that number this season with similar production, look for him to become super-max eligible.
Drummond is in his eighth NBA season, while Embiid is only in his sixth. So if Drummond were to earn All-NBA honors this season, he'd become eligible to immediately sign a super-max contract. Declining his player option and signing a five-year Designated Veteran contract would put Drummond in line for a deal worth $235.48MM based on the league's latest cap projection for 2020/21 ($116MM). Though of course, there's no guarantee the Pistons would be willing to go quite that high.
As for Embiid, if he makes an All-NBA team this season, he'll be in a similar situation to the one Giannis and Gobert are in now — super-max eligible based on his performance criteria, but not yet on his contract criteria. He'd have to wait until the 2021 offseason to sign that extension. I expect the Sixers will be ready to do a super-max deal if he keeps playing at this level and doesn't suffer any more major injuries.
It's also worth mentioning Jokic and Karl-Anthony Towns in this group. They'll only have five years of NBA experience apiece after this season, so they wouldn't be able to sign super-max extensions until the 2022 offseason. Technically though, one of them could meet the required performance criteria as early as this spring by winning the MVP award.
Players who can no longer qualify for a super-max contract:
There are many other players who could be added to this list, but these are the three who would otherwise be strong candidates to qualify the super-max if they hadn't already become ineligible based on one of the required criteria.
In Beal's case, he opted to sign a standard veteran extension this fall rather than wait to see if he'd make an All-NBA team this season and become eligible for the super-max. By the time he'll be able to opt out of his new deal in the summer of 2022, he'll have 10 years of experience under his belt, meaning he'll automatically qualify for the 35% max.
Davis and Oladipo, meanwhile, were traded while playing out their rookie scale contract extensions, making them ineligible for a super-max. Davis would have been able to sign such a deal this past offseason if he had remained with the Pelicans.
Photos courtesy of USA Today Sports Images.