Over the course of the 2019/20 NBA season, up until February's trade deadline, we're keeping an eye on potential trade candidates from around the NBA, monitoring their value and exploring the likelihood that they'll be moved. Each of these looks at possible trade candidates focuses on a specific division, as we zero in on three players from that division.
Typically, each installment in our Trade Candidate series focuses on a single division and then identifies players from three separate teams as possible trade candidates. However, a number of Atlantic clubs don't yet have any obvious candidates to be dealt, so today we're focusing on a single Atlantic roster that does feature plenty of potential trade targets: New York's.
Here are three Knicks players who could emerge as trade candidates prior to February's deadline:
Wayne Ellington, SG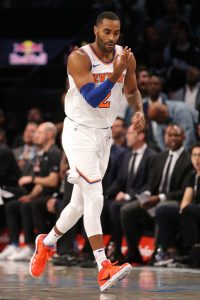 New York Knicks
$8MM cap hit; $1MM partial guarantee on $8MM cap hit in 2020/21

A career 37.8% three-point shooter, Ellington was a full-time starter for the Pistons down the stretch last season and averaged 32.8 minutes per game in the playoffs. This season, he's playing just 13.4 MPG for the lottery-bound Knicks and has received a handful of DNPs.
The Knicks have a crowded rotation, and it's hard to argue that they shouldn't be prioritizing young players like RJ Barrett, Damyean Dotson, and Allonzo Trier more than Ellington, especially since the veteran sharpshooter has slumped to start the season. But Ellington, who will turn 32 next Friday, should get hot at some point, and will have more value to a playoff team than he will as a bench player in New York.
Ellington's contract is team-friendly — a trade partner would only have to send out about $4.52MM in outgoing salary to match his $8MM cap hit, and he could easily be waived in the offseason with a minimal impact on a club's 2020/21 cap if he doesn't work out.
Reggie Bullock, SG
New York Knicks
$4MM cap hit; $1MM partial guarantee on $4.2MM cap hit in 2020/21
If the Knicks can't find regular minutes for Ellington, it seems unlikely that they'll be there for Bullock once he eventually gets healthy. Bullock provides a similar skill set, including a 39.2% career three-point mark, and has a similar contract structure, at half the price, which should make him an appealing target for a contender in need of shooting.
However, the big question surrounding Bullock is his health. The surgery he underwent in July for a cervical disc herniation is no joke, and it's unclear when he might be able to get back on the court. Last we heard, he'll be re-evaluated by the Knicks in early December.
If Bullock can get healthy and gets enough playing time before February 6 to rebuild his value, the Knicks will have to determine whether to shop him or to potentially look toward keeping him for a second year at an affordable price.
Taj Gibson, F/C
New York Knicks
$9MM cap hit; $1MM partial guarantee on $9.45MM cap hit in 2020/21

Outside of Barrett, Mitchell Robinson, and maybe one or two other players, the Knicks will probably be willing to discuss just about anyone as the trade deadline nears.
Still, Gibson is among the club's most logical trade candidates because he's the sort of veteran whom a playoff team can slot into its rotation without having to worry about getting him a ton of touches or having him adjust to new a scheme. The 34-year-old is in his 11th NBA season and is playing for his fourth team, so he'll be a quick learner. And you'd be acquiring him for his defense, rebounding, and toughness — not his offense.
Unfortunately, at $9MM, Gibson isn't really a bargain, so it may be difficult for the Knicks to extract much of value for him. If they're willing to take on some guaranteed 2020/21 money, that would open up their options.
Photo courtesy of USA Today Sports Images.