Over the course of the 2019/20 NBA season, up until February's trade deadline, we're keeping an eye on potential trade candidates from around the NBA, monitoring their value and exploring the likelihood that they'll be moved. Each of these looks at possible trade candidates focuses on a specific division, as we zero in on three players from that division.
Entering the season, the Central Division appeared to feature two contending teams (the Bucks and Pacers) and two more teams with playoff aspirations (the Pistons and Bulls), leaving just one Central club (the Cavaliers) that looked like a lock to be a seller at the trade deadline.
While it's still possible that will be the case, Cleveland has exceeded expectations in the early going, playing hard for new head coach John Beilein and currently holding the No. 7 seed in the East at 4-5.
As we wait to see whether the Cavs' early success is sustainable enough to alter their trade-deadline plans, let's round up a few potential trade candidates from around the division…
Tristan Thompson, C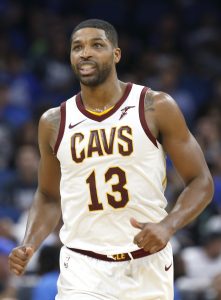 Cleveland Cavaliers
$18.53MM cap hit; UFA in 2020

One of five Cavaliers veterans on an expiring contract this season, Thompson entered the year looking like a logical trade candidate. After all, he's a reliable veteran with a championship under his belt, making him a better fit for a contender than a lottery-bound squad.
However, the Cavaliers value Thompson's locker-room presence and he's posting some of the best on-court numbers of his career so far in 2019/20. His 16.4 PPG, 11.3 RPG, 2.6 APG, and 1.6 BPG would all be career highs over the course of a full season. A solid rebounder and defender, Thompson spoke last month about wanting to make an All-Defensive team, but he has been better than expected on offense, with Beilein having shown a willingness to run plays through him.
A cynic might say that the Cavaliers are putting Thompson in position to increase his trade value ahead of February's deadline. Still, it wouldn't surprise me if the team seriously looks into what it would take to keep him around beyond this season before putting him on the trade block.
Langston Galloway, G
Detroit Pistons
$7.33MM cap hit; UFA in 2020
When the Pistons were trying to find a way to keep both Christian Wood and Joe Johnson on their roster at the start of the regular season, Galloway was said to be among the players the team explored trading. In fact, one report suggested Detroit was "very open" to the idea of moving the veteran guard. However, no deal materialized, presumably because teams didn't view Galloway as a positive asset.
Like Thompson, however, Galloway is off to a great start to the season, averaging 11.6 PPG on .437/.457/.912 shooting through 11 games (24.2 MPG). While the Pistons may not have expected him to have this significant a role, injuries to Reggie Jackson, Derrick Rose, and Tim Frazier have forced the team's hand — as has Galloway's strong play.
Whether or not Galloway re-emerges as a trade candidate may hinge on the Pistons' ability to remain in the playoff mix in the East. If the club is in position to make a win-now move at the deadline, Galloway's expiring contract would make a logical salary-matching chip. If not, it may be in the club's best interest to just let his contract expire at season's end — unless he plays well enough to gain positive trade value.
Kris Dunn, PG
Chicago Bulls
$5.35MM cap hit; RFA in 2020
Dunn, who has also been the subject of trade rumors before this season, has seen his stock dip drastically since he was acquired by the Bulls in 2017. His offensive numbers this season are especially modest, and his usage rate is down to 15.1 through 10 games, well below the 22.5 mark he posted in his first two years in Chicago.
However, head coach Jim Boylen likes how the former top-five pick has played so far this season, as Darnell Mayberry of The Athletic writes. While he has taken on a more passive role on offense, Dunn has been strong on defense, averaging 2.2 steals in just 20.4 minutes per game. That's important for a Bulls team that has been up and down on the defensive end so far this season.
Despite a decent start, Dunn could end up back on the trade block within the next few months due to his contract situation and the Bulls' roster situation. Tomas Satoransky and Ryan Arcidiacono signed three-year contracts with the team in July and Coby White was the seventh overall pick, so Chicago has more invested in its other point guards than in Dunn, who will be a free agent in 2020.
Photo courtesy of USA Today Sports Images.