The Warriors are expected to be without two-time MVP Stephen Curry for at least three months, according to Marc Stein of The New York Times, who reports (via Twitter) that Curry underwent successful surgery on his broken left hand on Friday.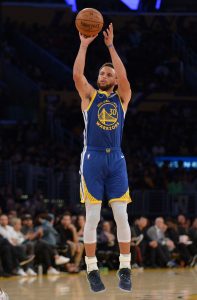 The Warriors have issued a press release confirming Stein's report, announcing that there will be an update on Curry's status in three months. Based on that timeline, the earliest we should expect to see the star guard back on the court is on February 1, which means he'll miss at least the next 45 games.
It's a crushing blow for the Warriors, who lost Kevin Durant, Andre Iguodala, and Shaun Livingston in the offseason and will be without Klay Thompson (ACL) until at least the All-Star break. Golden State was off to a bad start this season even with Curry in its lineup, having been blown out in three of the team's first four games.
Now, the Warriors will have to try to get by for the foreseeable future without either Splash Brother, and without the sort of veteran depth the club had during its run of five straight NBA Finals appearances. The Dubs have one of the NBA's youngest rosters, as we noted earlier today.
The Warriors' cap situation will make things even more difficult moving forward. The team is right up against a hard cap and can't add a 15th man to its roster, let alone apply for a hardship exception for a 16th.
As ESPN's Bobby Marks observed earlier this week (via Twitter), Golden State still has more than eight healthy players on its roster, meeting the league's minimum requirements, so the club is handcuffed for now. Even if that number were to dip below eight at some point, the Warriors' hard cap means they'd have to petition the NBA to add a player, per Marks (via Twitter).
In the wake of Curry's injury on Wednesday night, Warriors owner Joe Lacob dismissed the idea that his team would consider going into tanking mode, suggesting that tanking is "against every single thing I and we stand for."
However, without Curry and Thompson, the Warriors have limited upside and will likely be lottery-bound, so it won't be a surprise if they lean more into the idea of developing their young players over the course of the season.
Photo courtesy of USA Today Sports Images.