NOVEMBER 15: Anthony still needs to pass his physical and won't make his Blazers debut until at least Tuesday, Wojnarowski tweets.
NOVEMBER 14: The Trail Blazers have agreed to a non-guaranteed deal with free agent forward Carmelo Anthony, according to Adrian Wojnarowski of ESPN. Woj adds that Anthony, once signed, will join the Blazers on the team's upcoming six-game road trip, and that the team hopes to have him fill the void at power forward created by the loss of Zach Collins (Twitter link).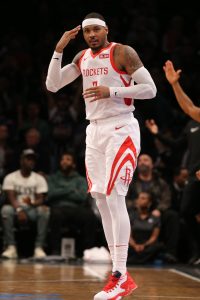 Portland, off to a 4-8 start, has been one of the bigger disappointments of the first few weeks of this NBA season. As such, it comes as no surprise that the team would take a flyer on Anthony, 35, as the 10-time NBA All-Star looks to reinvent himself as a role player after being out of the league for the last 12 months.
Interestingly, however, the Trail Blazers suggested earlier this month that signing a 15th man was not a priority for them and that they'd opt instead to rely on depth and positional versatility. Of course, at that time, Portland was only 3-4, so the club's top decision-makers may have changed their minds after going 1-4 over the last five games.
According to Woj (link), Blazers' GM Neil Olshey and Anthony's agent, Leon Rose, had stayed in contact on Carmelo since the preseason, with conversations picking up over the past couple days. Olshey and head coach Terry Stotts talked directly with Anthony before reaching today's agreement.
It will be interesting to see how Anthony meshes with the Blazers' backcourt pairing of Damian Lillard and CJ McCollum. According to Chris Haynes of ESPN, Lillard was notified of the potential signing last night and made it clear that he's always been supportive of bringing Anthony into the fold in Portland.
Jason Quick of The Athletic, who has covered the Blazers for the past 20 seasons, seems skeptical of the fit, opining that the team's biggest deficiency at this point seems to be on the defensive end of the floor (i.e. – not Anthony's strength). However, given the team's poor start, Quick also appears to concede that the signing is worth a shot.
As Bobby Marks of ESPN notes, Anthony will earn $14,490 per day while a member of the Blazers, which mean he's signing for the league minimum salary for a veteran with 10+ years of NBA experience. The Blazers only have 14 players on their roster currently, so no corresponding move will have to made, but the team will see its luxury tax bill grow with the signing.
Photo courtesy of USA Today Sports Images.