Every week, Hoops Rumors takes a closer look at players who will be free agents or could become free agents next offseason. We examine if their stock is rising or falling due to performance and other factors. This week, we take a look at players from the Atlantic Division: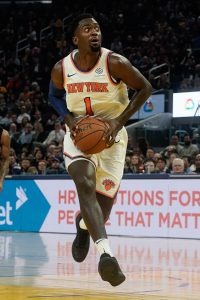 Bobby Portis, Knicks, 24, PF (Down) – Signed to a two-year, $30.75MM deal in 2019
Portis' career appeared to be on the upswing when he posted solid numbers across the board for Chicago and Washington last season. Like many of the free agents the Knicks signed, Portis has been a colossal disappointment. His shooting percentage has dipped and he hasn't been a force around the boards. Other than a 28-point outing against Chicago in late October, Portis has done little to justify his salary. Unless he experiences a major turnaround under new coach Mike Miller, the Knicks will decline their $15.75MM option on him after the season.
Brad Wanamaker, Celtics, 30, PG (Up) – Signed to a one-year, $1.4MM deal in 2019
Wanamaker's role has grown in his second season with the Celtics. He's carved out steady work, averaging 17.9 MPG while appearing in all 24 games. He doesn't take a lot of shots but he's above average in those categories (47.1% overall, 40% on threes, 87.5% at the free throw line). He had a 12-point, six-rebound outing against Indiana on Wednesday. Boston can make Wanamaker a restricted free agent by extending a $1.9MM qualifying offer after the season. Thus far, he has given them incentive to retain those rights.
Garrett Temple, Nets, 33, SG (Up) – Signed to a two-year, $10MM deal in 2019
The Nets made plenty of headlines during the free agent period this past summer by signing Kyrie Irving, Kevin Durant and DeAndre Jordan. Who would have guessed that during the first two months of the season, the free agent making the biggest impact would be Temple? He's averaging 13.9 PPG, 3.9 RPG and 3.6 APG while shooting 39.7% from long range in 34.2 MPG over the past 10 games. The Nets hold a $5MM option on Temple's contract for next season. As a valuable member of the rotation, Temple is making that decision an easy one.
Jonah Bolden, Sixers, 23, PF (Down) – Signed to a four-year, $7MM deal in 2018
Bolden appeared in 44 games in his rookie year, including 10 starts, but doesn't have a role on this year's team. Bolden, who has been bothered by an Achilles injury, has appeared in just two NBA games this season. He's played eight games with the team's G League squad, the Delaware Blue Coats, and that's where he'll likely spend most of his time this season unless Al Horford or Joel Embiid miss a stretch of games. Bolden's $1.766MM salary for next season is not guaranteed and even at that modest cost, the Sixers might not keep the 2017 second-round pick around.
Stanley Johnson, Raptors, 23, SF (Down) – Signed to a two-year, $7.4MM deal in 2019
The highlight of Johnson's disappointing NBA career came in his rookie season, when then-President Barack Obama praised his defensive effort against LeBron James in a playoff series. The eighth pick of the 2015 draft has gone from rotation player in Detroit to an afterthought with the Raptors. Currently sidelined with a groin injury, Johnson has only made five brief appearances this season. Fortunately for Johnson, he holds a player option on his $3.8MM salary for next season. At this point, it would be foolhardy for Johnson to opt out in the summer.
Photo courtesy of USA Today Sports Images.